Wednesday, November 30, -0001
Cessna Caravan 675 Amphibian: By Land and By Sea
From the hard deck or a Canadian lake, Ed Santangelo's Caravan amphib gets the job done
Since Santangelo's trips are both business and pleasure, he equipped his brand-new Caravan with every imaginable creature comfort and state-of-the-art avionics for weather information, traffic and terrain clearance.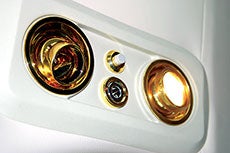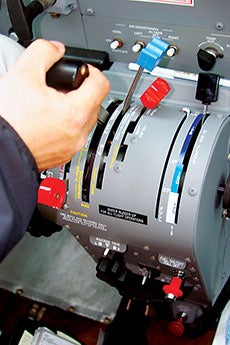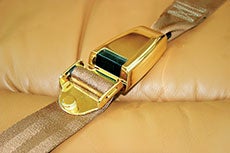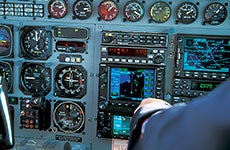 Santangelo's choice for number-one stick jockey was Brent O'Clair, an amiable man with an easy smile and a broad flight background that definitely made him a top contender for Ed's multi-faceted mission. All of the obvious qualifications were there: 31 years and 20,000 hours of flight experience in everything from helicopters to small commuters to water bombers to regional carriers to, well, floatplanes. "Ed and Mike were looking for someone with over 18,000 hours and lots of float time," O'Clair remembers. "I had less time in floats than some other guys, but more instrument time. I had also flown for Federal Express for nine years and that gave me 4,000 hours in Caravans." When Santangelo, who also wanted to learn how to fly the airplane, heard that O'Clair was a certified flight instructor as well, that clinched the deal. "Brent, as chief pilot, is my safety factor," Santangelo explains. "I can act as backup for him because I always want two pilots on board. We probably log 400 hours a year on the airplane. I'm in it for 300 of those hours, and for 200 or so, I'm usually logging time in the right seat."
Santangelo's world-beater schedule doesn't afford time for much extracurricular training, but he and O'Clair go up now and then for an instructional spin. DeWitt lauds Santangelo's accomplishments behind the yoke; this not only speaks well of Santangelo's abilities and discipline, but also of the airplane itself. "Ed had some flying experience, but hadn't even owned an airplane in almost seven years. He wanted to carry a big family and lots of gear, so he needed good payload capability, speed and comfortable flying. That's where the Caravan's docile handling characteristics shine."
"The turbine is easier to fly than a piston airplane," Santangelo chimes in. "The Caravan handles like a big Cessna 172 or 206."
Stall speed on floats is only 59 knots, pretty much unheard of for a plane of its size—and that's cleaned up! With flaps, stall drops to 45 knots, or two knots slower than with conventional gear, because of a slight aerodynamic boost from the floats. "It's such a great, safe airplane to fly," Santangelo continues. "I installed Nexrad Doppler Radar and TCAS, which is fantastic because there are lots of aircraft flying around at low altitudes throughout this region. I also have a TAWS ground avoidance system; you find a lot of towers coming in to land on lakes." Santangelo's panel is very solid for inclement weather, too, with a Honeywell Bendix/King KFC-250 digital autopilot, and Garmin 530 and 430 radios linked up to the autopilot. The panel also features a Honeywell Bendix/King IHAS 8000 with MFD and a Honeywell Bendix/King KTR-510 NEXRAD Weather Uplink, which displays not only NEXRAD Radar, but also METARs, TAFs and PIREPs.
O'Clair adds, "We've got moving maps, all the latest technology. This airplane pretty much flies itself from point A to point B. Between 1,000 and 2,000 feet, I normally go to GPS nav mode. We can even program in the approach data for our destination in advance, and the airplane flies us right down the pipe until we disconnect autopilot at 1,000 feet and hand-fly it down to ground."
O'Clair also digs how well the airplane interfaces with the big iron at larger airports like Toronto or Detroit. "We can keep the airspeed up, then cut power at the last minute with­out the supercooling worries piston engines are prone to."
Handling an 8,360-pound-gross-weight airplane on the water and on land requires a broad skill set. "Landing on a runway with the amphibious wheels requires a different technique because we're sitting up so high," says O'Clair. "It's not hard. It just takes practice. And I love flying the Caravan off the water because you never get the same conditions two times in a row. You need to know a few sailing skills to get an airplane this size into a dock."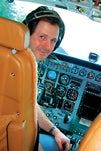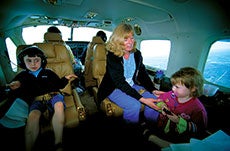 Owning a plane that can land on ground or water enables Santangelo to make business calls almost anywhere, plus take his family to their summer home on Lake Muskoka in Canada
One tool is the Caravan's reversible prop, which lets the pilot come in with enough forward momentum to maintain rudder control, then "brake" with the reversible prop to slow down at the last minute.
Santangelo's airplane also has blade locks. "Not many Caravans do," says O'Clair. "Locks position the blade for neutral thrust. So when I want to stop right where I am, I can put on the locks and it will stop pretty much on a dime."
One finesse trick that O'Clair has learned from his mentor, Pat Maghee (one of the best known and most prolific float pilots alive), is how to do a 180-degree left turn. The trick is to use prop torque and the rather considerable thrust from the large turbine exhaust on the right side of the airplane.
Page 2 of 3