Wednesday, November 30, -0001
Cessna Caravan 675 Amphibian: By Land and By Sea
From the hard deck or a Canadian lake, Ed Santangelo's Caravan amphib gets the job done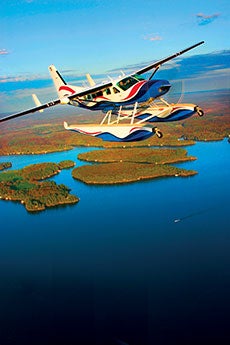 When the Caravan was delivered in October 2002, the aircraft was equipped with wheels. After flying it during the winter, Santangelo converted the gear to floats, which provide great versatility.
"You can almost stand still and rotate," O'Clair explains. "I use it as a backup—it's perfect for a tight spot."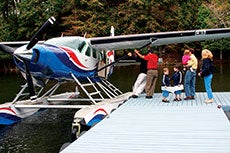 Although Ed Santangelo generally pilots the Caravan, he also logs right-seat time with CFI Brent O'Clair. Having a second pilot on board not only eases the flight load, but gives Santangelo extra time to spend with his most precious cargo, his family.
More than 1,400 Cessna Caravans have been delivered to more than 70 countries since its debut just 17 years ago. Its reputation as one of the friendliest, safest, most versatile single-engine turboprops in the world is approaching "legend." You can get a stiff neck taking in all of the amphib's 16' 4" frame. "Often we'll go into a big FBO, where several big, expensive jets are sitting on the ramp," says O'Clair. "But everybody comes over to check us out."
DeWitt proudly notes that the Caravan amphibian has no serious competition. "Ed knew he had a good investment. Caravans sell for close to their original Bluebook purchase price, even after several years of service."
But as compelling as all the numbers and features are, nothing speaks quite so eloquently to the trust Ed Santangelo places in his Caravan as the loving smile on his face while lifting his wife, then each of their three children, up onto the float and into the large, luxurious executive cabin. He knows his most precious cargo of all will always be in good hands, under good wings.
Page 3 of 3