Sunday, July 1, 2007
Cessna Turbo Stationair: Escalade For The Jeep Trail
An acknowledged workhorse for nearly 40 years, the Cessna Stationair adds major avionics sophistication and uncommon comfort to its credentials

Somehow, the very idea of motoring along a mile above the tallest mountain in the contiguous 48 states in a Cessna Stationair seems almost a contradiction in terms, an oxymoron (a moron on oxygen). Most pilots simply don't associate the tough 206 with operation in the flight levels. The airplane's image is more utility station wagon than high-performance, turbocharged SUV." />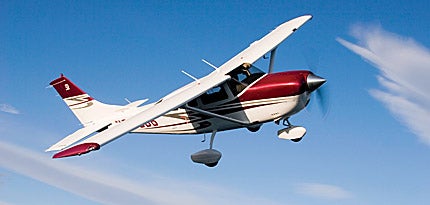 Somehow, the very idea of motoring along a mile above the tallest mountain in the contiguous 48 states in a Cessna Stationair seems almost a contradiction in terms, an oxymoron (a moron on oxygen). Most pilots simply don't associate the tough 206 with operation in the flight levels. The airplane's image is more utility station wagon than high-performance, turbocharged SUV.
Yet, here we are luxuriating at FL200, relaxing, warm and comfy, in spacious leather luxury, breathing oxygen, looking down on the spine of California's Sierra Nevada and Mt. Whitney. We're flying today with the help of one of the most sophisticated avionics suites in general aviation. The panel includes a two-tube, flat-panel Garmin G1000 Integrated Flight Deck for navigation, communication and monitoring engine/flight instruments, plus a Garmin GFC 700 Automatic Flight Control System, which helps keep the whole package pointed in the right direction.
Today, that direction is Reno, Nev., a quick day-tripper to check out the latest 2007 iteration of the Turbo Stationair. Owner Barry Brand of Oxnard, Calif., rides in the right seat to make certain we don't break anything, and two friends complete the manifest in the middle seats.
True airspeed at this height is 160 knots—not bad for a fully grossed utiliplane with wheels and struts hanging in the wind. If need be, we could ascend another mile to a dizzying 25,000 feet, not a big deal for a Piper Mirage or Mooney Acclaim, but hardly what you'd expect from a flying sport-truck.
To be honest, today's basic 206 is little changed from the airplane Cessna revived in 1998, and that machine in turn was similar to the Stationair we all knew and loved a dozen years before that. In this case, Cessna got so much right the first time around that there was little need to reinvent the wing.
The Stationair was one of three models taken down off the shelf when Congress passed the 1993 General Aviation Revitalization Act. That bit of legislation established an 18-year statute of repose, which forbad lawsuits against manufacturers of aircraft older than 18. Cessna CEO Russ Meyer, true to his promise, announced that Cessna would restart the piston line. The Skyhawk was an obvious first choice for reintroduction, and the Skylane was another given. Interestingly, the third and most expensive model, the Stationair, was in equal or greater demand than the other two.
Page 1 of 3