Saturday, January 1, 2005
Cessna's All-New Stationair
Adding Garmin glass to the newest line of C-206s has reinvented the aircraft's workhorse capabilities

Utility airplanes must answer to a different kind of owner. Unlike most personal-transportation machines that are dedicated to recreation or fun, utility models are most often working airplanes that must pay for themselves. " />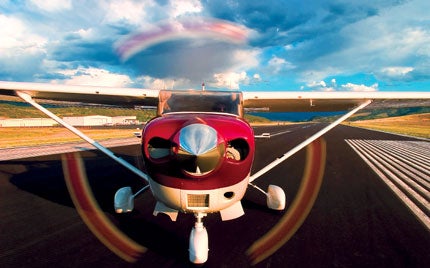 Utility airplanes must answer to a different kind of owner. Unlike most personal-transportation machines that are dedicated to recreation or fun, utility models are most often working airplanes that must pay for themselves.
The Cessna 206 has always been regarded as one of the premier work vehicles. Cessna Stationairs are almost universally revered around the world. They're generally tough airplanes, and that endears them to operators for whom where you can go and how much you can carry is far more important than how fast you can get there.
Stationairs have a deserved reputation as being tough birds capable of lifting pretty much anything that you can close the doors on, at or over gross. I've made my share of delivery flights in C-206s.The latest was in a new airplane that I picked up at the Cessna factory in Independence, Kan., and ferried to Bankstown, Sydney, Australia. Much of that flight was at 900 to 1,000 pounds over gross, operating under the special airworthiness certificate that comes with a ferry permit. If the handling was essentially truck-like and nothing happened very fast, at least the airplane hardly knew that it was nearly 30% over normal gross weight. (No, that's not a suggestion that anyone should run right out and fly their C-206 over gross. It's merely an example of what's possible under special circumstances.)
In fact, power-lifter has always been everyone's image of the C-206. The type is almost universally regarded as a rugged super-hauler, a kind of flying Chevy Suburban, willing to take on any load and not especially picky about the destination, be it paved, asphalt runway or unimproved, grass or dirt strip. With or without oversized bush tires or wheel fairings, the Stationair's sprung steel gear is strong and resilient, willing to forgive a multitude of sins. Stationairs also are approved on skis and floats, and many of the type based in Alaska or Canada spend half the year on wheels and the other half on floats. The C-206 also is licensed for amphibious floats by Fiber Float, DeVore and Wipaire that allow operation on land or sea interchangeably, but these are of limited value in bush mode because of the additional weight.
Cessna left the basic 206 Stationair airframe as it was, but the company made a major change in avionics technology. In September 2004, Cessna earned certification of the Garmin G1000 integrated glass cockpit system. The G1000 incorporates essentially all navigation and communication radios, flight and engine instruments into two large, flat-screen displays, a primary flight display and a multi-function display. The G1000 originally was certified in the Diamond Star, then the Cessna 182/T182, Mooney Ovation and Bravo, and now the Stationair 206 and T-206. It seems everyone is jumping on the G1000 bandwagon, and any pilot who has had a chance to fly the system understands why.
While there's little question that flying the G1000 is more complex than flying the airplane itself, Garmin's new avionics system is, at least, partially intuitive. As with any dramatically improved and upgraded avionics system, the G1000 is intimidating at first glance, but after you've sat in the cockpit for a few minutes and examined the glass-panel layout, things begin to fall into place and look more familiar.
Garmin's Matt Hara explains the company's philosophy in creating the glass cockpit: "Garmin co-founder Gary Burrell had always dreamed of someday producing an all-in-one navigation/communication/instrument system, and the G1000 is the huge realization of that dream. The Garmin 430 and 530 were major steps in incorporating VHF/GPS navigation and communication plus position depiction into a single box, but the Garmin G1000 takes the concept several steps further.
Page 1 of 3