Monday, May 1, 2006
CHiPs In The Sky
Ever seen those signs that say "Patrolled By Aircraft"?

California's state police have used fixed-wing aircraft to patrol the Golden State's roads for more than 30 years. The California Highway Patrol (CHP) first used Maule M4s, then transitioned to a dozen Cessna 185s. The universally beloved and talented utility taildraggers offered a forgiving personality, reasonable speed and good off-airport capability. Like 185s everywhere, the CHP Skywagons were revered by their pilots and generally regarded as flying jacks of all trades. " />
Having multiple doors makes the airplanes easy to load and unload, and the air-conditioning systems allow for more comfortable ground and flight ops in California's low and high deserts, from Death Valley and Palm Springs to Mojave and Lancaster.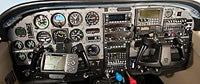 The CHP's Cessna 206s sport about 200 pounds of radios to support their law enforcement role.
The mission of the CHP's Stationairs is certainly as diverse as the department they serve, and the Cessnas are based at seven locations around California: Redding, Napa, Victorville, Fresno, Auburn, Fullerton and Paso Robles. Sergeant Michael Texiera supervises flight operations at the air unit in Paso Robles, and he acknowledges that they do quite a bit of traffic tracking from up high.
"Our job is pretty much a 50/50 split between homeland security and ground enforcement/surveillance," says Sergeant Texiera. "It's not all just looking for speeders, though that is one of our big jobs. In addition to traffic work and law enforcement, we're charged with monitoring the state's major utility and transportation assets such as dams and reservoirs, power plants, bridges and railroads. Our job is to check those facilities to make certain there's no suspicious activity, no one on scene who shouldn't be there. In the process of patrolling those sites, we sometimes see other things, and with our sophisticated UHF and VHF radio equipment, we can talk to virtually any police or fire department in the state. We can even serve as a line-of-sight relay station to forward transmissions from one ground station to another over the horizon. CHP was not involved in the Katrina disaster, but radio relay would have been a valuable feature with all the microwave stations destroyed in the southern Louisiana and Mississippi area.
"In traffic- or law-enforcement mode, the Stationair's 140- to 150-knot speed means we can be on site in a short time and help determine what resources need to be called in. We often photograph accident sites from the air and try to identify those places that are especially accident prone so we can consider solutions to the problems. We can also fly special search-and-rescue missions if necessary, though that's more a Civil Air Patrol (CAP) province than ours."
The Stationairs aren't that much faster than the old 185s down low, but the new planes are far more talented in other respects. Sergeant Texiera says the 206's larger cabin, bigger payload and nosewheel simplicity make it nearly ideal for the CHP's purposes. "The only thing we really traded away with the move to Stationairs was the ability to land off-airport, and we didn't do that very often anyway with the 185s," Texiera comments. "If you land an air unit, you obviously give up the speed and mobility of having an aerial vehicle in the first place, so we try to stay airborne as much as possible."
Page 2 of 4