Tuesday, March 25, 2014
Citation Step-Up Magic
Cessna's new citation M2 upgrades performance, value and features
Training For The M2
www.flightsafety.com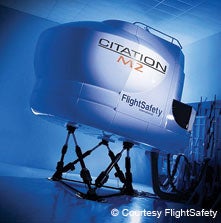 FlightSafety International is Cessna's chosen training provider for the M2, and just as the M2 is a completely revamped and upgraded airplane, so is the training program that goes with it. The folks at FlightSafety have incorporated the lessons learned from the Mustang to create a whole new program that focuses on flexibility and customer success.

Customers coming into the program might range from piston-single pilots to those typed in other jets, as well as pilots already typed in the 525 series Citations. For those with little turbine time and with at least 600 to 1,000 hours, there's a three-day Citation M2 Prep Course, which includes 11 hours of ground and six hours of simulator time. This course is designed to prepare new jet pilots for formalized simulator training and to get them up to speed for the type-rating process that happens in the initial training course.

For pilots already typed in the 525 series, there's a two-day "indoctrination" course that focuses on the differences between the M2 and other 525 Citations—like the CJ1+, CJ2, CJ3 and CJ4. Much of the course focus is on the new G3000 avionics system. After completing the indoctrination course, participants can take the three-day M2 "recurrent" course, which includes 11 hours of ground and eight hours of simulator time.

For everyone else—mainly those with other jet ratings who are looking to add a C525 type rating in the M2—there's the 16-day initial M2 type pilot training course. This course includes 38.5 hours of ground school and six hours of systems integration training using a standalone G3000 graphical flight-deck simulator. Pilots then transition into 14 hours of pilot flying time in the FAA-approved Level-D M2 simulator.

FlightSafety also offers numerous online courses, and world-class training materials that can be reviewed and completed before you even show up. There's nothing like starting the process well prepared.

The type-rating process can be challenging, but FlightSafety aims to make it something to look forward to. Whether you're looking for a single pilot or a crew rating, be prepared to learn all of the aircraft systems, avionics, flight-planning tools and emergency procedures. You'll need to show up instrument proficient with the understanding that you'll be expected to fly to ATP standards by the time you complete the training. At the end of the process, you'll take an oral exam with a Training Center Evaluator (TCE), which typically lasts from two to four hours, covering the aircraft systems, memory items and flight planning scenarios. After that, you'll take a checkride in the simulator that typically lasts about 1.5 hours and includes engine-out procedures, numerous instrument approaches, stalls and other performance maneuvers.

If you're new to the world of jets and you do your first rating as a crew, you get to do everything with a copilot, which can be a big help. When you go for the single-pilot rating, you're on your own, so it helps if you have a little experience under your belt. Simulator time is always "problem time," and it takes some practice to handle it all when things start to pile up—particularly when you're on your own. It might sound daunting, but the folks at FlightSafety know how to make sure that every student is well prepared to get through it—and to even have fun during the process! Yep, it's hard, but it can be one of the most rewarding things you can accomplish in aviation.

Page 5 of 5