Tuesday, September 21, 2010
Fixed-Gear Speed Demon
We fly the latest turbocharged Corvalis two years after Cessna bought the Columbia line of composite singles
If you fly most of your flights on the West Coast or rely on your airplane for on-demand business or personal travel to virtually any destination, turbocharging is more than a convenience. I'm a perfect example of the practical application of turbocharging. Three of the six airplanes I've owned over the last 40 years have been turbocharged, and there's no comparison between the places I've gone with and without turbocharging.
These days, I fly a normally aspirated Mooney that used to fly behind an aftermarket Rajay turbo. (It's a long story, not worth telling.) Last August, Pilot Peggy and I wanted to take another couple flying and considered our options. Santa Barbara was a good possibility, San Diego another reasonable destination—both on the coast.
Unfortunately, Big Bear wasn't so reasonable. Big Bear is a mountain strip 6,750 feet up in the San Bernardino Mountains and the most spectacular choice. Density altitude at Big Bear on a typical summer day can reach 8,500 feet, a height at which the family Mooney would be down to about 70% power. The runway at Big Bear is long and usually departs over a lake, but I wouldn't even consider flying out of that airport with a gross load on a typically warm, 75-degree F summer day.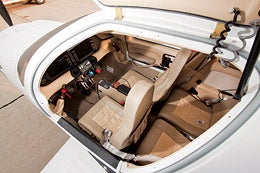 The Corvalis models feature gull-wing doors and side-stick controls. The spacious cockpit measures 49x49 inches, and its plush seats are reminiscent of a luxury sports car.
A turbo reduces the risk in such situations. The case for turbos is easy to make for those pilots with a legitimate use for a blower, and even for those who want one simply for the extra margin of safety, regardless of any real performance justification. That's one reason so many manufacturers offer both a normally aspirated and a turbocharged version of the same airplane.
From Columbia To Cessna
So it is with Cessna's Corvalis. Under the Columbia banner, the models were known as the Columbia 350 (normally aspirated) and 400 (turbocharged), and Cessna's renamed versions are the Corvalis and Corvalis TT, respectively. ("TT" stands for twin-turbocharged.) From the outset, Lance Neibauer's Columbia airplanes seemed an unusual choice for stablemates to Cessna's all-aluminum, high-wing singles. When the giant Wichita company purchased little Columbia Aircraft in 2007, the new Cessna products presented an interesting contrast to the time-honored designs Cessna has become famous for in the last half century.
If Cessna has been criticized for its lack of innovation, the Columbia 350 and 400 presented the company in a very different light. The new airplanes were a flash of innovation, as modern as the new millennium and possessed of performance that matched their modern appearance. The Columbias were part of the new age of light aircraft. Like Cirrus and Diamond, Columbia found new ways to smooth more and more rough edges off what had come to be regarded as the conventional airplane.
Page 1 of 4