Tuesday, September 21, 2010
Fixed-Gear Speed Demon
We fly the latest turbocharged Corvalis two years after Cessna bought the Columbia line of composite singles
A Different Kind Of Cessna
Despite the enduring attraction of Cessna's traditional piston models (or perhaps because of it), the Corvalis aircraft present a prospective Cessna buyer with a number of choices, none of which were available before. For those who embrace newer construction techniques, the Corvalis offers E-glass, carbon-fiber technology to assure some of the smoothest airfoils in general aviation. Composite construction also produces a lighter, stronger airframe, as evidenced by the Corvalis' certification in the FAA's Utility category that raises positive G-limits from 3.8 to 4.4.
Corvalis models also feature gull-wing doors and side sticks, two innovations relatively new to the industry. The gull-wing doors open up and out to provide optimum access to the cabin. Cessna provides leather straps to help you pull the doors back down into position when it's time to close up. Taxiing with the doors up is pretty much de rigueur if you opt out of air-conditioning. Air-conditioning was optional until last year, when Cessna made it standard with the option to remove for those wishing to improve useful load. Just remember to keep a tight grip on the straps if there's any significant wind. Some pilots simply loop the strap around their outboard lower arm to hold the door in trail position.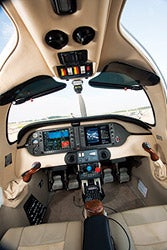 The Garmin G1000 system that's standard on the Corvalis TT features WAAS and Synthetic Vision. The panel also has a Garmin GFC 700 autopilot.
Side sticks, as the name implies, are mounted on the sidewalls, so there's nothing to obstruct the view of instruments and controls. Side sticks do manifest one characteristic that takes a little getting used to. Roll response with the short throw of the side sticks is heavier than you may be used to. That's because there's less mechanical advantage than with a conventional joystick or yoke.
Similarly, you can't simply rest your forearm on the left armrest and fly the airplane with a flick of the wrist. Control forces are heavier than with a Skyhawk or Skylane, but once you get accustomed to manipulating the angled stick, it becomes almost second nature. Just don't try to fly with your right hand unless you're in the right seat. Some pilots may actually prefer flying from the right side to observe the fighter pilot's principle of HOTAS, hands on throttle and stick.
This allows you to maneuver the airplane with your right hand and manage power with your left, fighter-pilot style. No one will ever mistake a Corvalis for an F-16, but the side sticks do lend themselves to dreams of flying a fighter. Side sticks also give the front office an open, airy feeling, making the cockpit seem larger than it is.
Navajo Cabin—In A Single
…And it's already fairly large. Aviators riding in the front buckets luxuriate in a cockpit that's 49 inches across by an equal measure tall. Those are roughly the same dimensions as a Piper Navajo. In combination with an interior so lush and comfortable that the whole airplane feels packed in ermine, the Corvalis models offer luxury seating that's nearly automotive in nature.
Page 2 of 4