Tuesday, August 21, 2012
Mustang Teaching Machine?
Flying the airplane is easy. Mastering the systems is the challenge.
For many pilots, speed is the narcotic that attracted them to the discipline in the first place. Everyone agrees that airplanes have myriad applications, but the prevailing benefit is the ability to move people and things from one place to another in minimum time and do it in comfort and safety. To that end, manufacturers are constantly pushing the limits of what's possible in terms of cruise speed, slicking airframes, adding power and generally improving the state of the art. Speed sells.
For years, the laws of aerodynamics and simple logic have dictated that the fastest and most efficient single-engine piston airplanes should be retractables. An airplane that can put the wheels to bed has a significant drag advantage over those that must leave the tires hanging in the wind.
That would probably still be the case, except that there are hardly any retractables still in production, partially a function of the high labor hours required to produce the type. Only the Piper Arrow III and Beech G36 Bonanza are still being built, and no one can say how long either will survive.
While retractables do enjoy an aero-dynamic advantage at low to medium heights, that benefit decreases at high altitude, where the air becomes thin and less able to support a wing. Well-designed struts and wheel pants can help minimize a retractable's cleaner-drag coefficient. The Mooney Acclaim S was the unchallenged speed king for a few years, but now, sadly, it and all other Mooneys are out of production.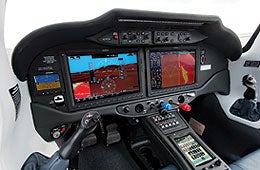 The new touch-screen Garmin G2000 dominates the Intrinzic flight deck on the Corvalis TTx. The Garmin GTC570 touch-screen controller is on the lower center console and allows a pilot to program comm frequency, navigation and mode information, plus environmental control and intercom commands.
The TTx
Cessna hopes to deliver its first fixed-gear Corvalis TTx by the first quarter of 2013. It's an improved version of the Corvalis TT, in turn, an updated model of the former Columbia 400. The original was a turbocharged, all-composite single designed by Lance Neibauer and built by Columbia Aircraft Manufacturing Co. in Bend, Ore.
The modern Corvalis represents a significant departure for Cessna Aircraft, a company that had never marketed a low-wing single or an all-composite machine before the model 240 Corvalis. In fact, the TTx is both Cessna's and general aviation's fastest piston airplane, and that includes twins. Neither the Beech G58 Baron nor the Piper Seneca V can come close to the Corvalis' cruise performance.
Cessna had a press reintroduction of the 2013 Corvalis TTx last June at the company's Wichita plant on Mid-Continent Airport. I met with Cessna chief pilot Kirby Ortega and Corvalis team leader Terry Shriner on a typically warm June day, and we prepared to launch into a 100-degree afternoon.
Page 1 of 5