Tuesday, July 26, 2011
Skylane For The Flight Levels
A turbo benefits far more than high-altitude cruise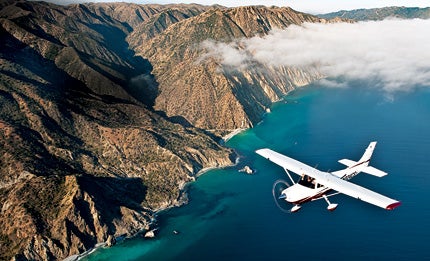 Bill Cox and Jade Duckart pilot a new 2011 Cessna Skylane along the western side of Southern California's rugged Catalina Island.
Back in 1979, I purchased one of the very first Mooney 231s, my first-ever new airplane. At the time, the price seemed more applicable to something with a three-car garage and a circular driveway. Still, with all the tax benefits (investment tax credit and accelerated depreciation), the 231 turned out to be an excellent financial move. This was the first of the turbocharged, four-seat Mooneys, however, and the turbo system wasn't quite ready for prime time.
I purchased the 231, and immediately leased it on an all-encompassing, two-year contract from the date of delivery, so I had little to do with the airplane until 1981 when the lease expired. (In fact, I didn't even see "my" Mooney until the lease expired.) I found out later that the engine had suffered turbocharger problems from the beginning, and those problems continued when I took the airplane back, after the warranty expired, of course.
Between 1981 and 1987, when I finally traded the 231 for a Turbo Executive, I went through three more turbos, despite toeing every operational limit on temperature and cooldown. "
Fortunately, today's turbos are a new, more reliable generation of blowers. Mooney and every other manufacturer that uses turbochargers employ systems that are greatly improved from those first semiprimitive systems. By all accounts, today's turbos are as durable as the engines themselves, and operating characteristics are so similar, you might forget there's a compressor out front.
Case in point—the Cessna Skylane TC. A year ago, I made a 14-hour delivery of a new 2010 model from Lakeland, Fla., to Long Beach, Calif., and more recently, I flew a 2011 T182T equipped with essentially every option. Both experiences only served to reinforce the belief that today's turbochargers are tough compressors. Better still, the Skylane's sloped controller is automatic. It won't allow an overboost beyond the 32/2,400 limits under most conditions.
The Cessna store in the mountainous West of Southern California, Pacific Air Center on Long Beach Airport, only orders T182s for inventory (though they'll be happy to order anything you wish). Company president Rich Manor comments, "Here on the West Coast, the IFR MEAs for any flight other than right along the beach will nearly always be 11,000 feet or higher. A normally aspirated Skylane can climb to that altitude without problems," Manor continues, "but a turbo provides so much more flexibility of route, weather and height that most Western pilots prefer to have a blower out front. That becomes especially important for operation over the mountains north and east."
The Skylane TC's Lycoming engine is gently turbosupercharged. In other words, it develops more than the normal 29 inches of manifold pressure. Specifically, the TC's TIO-540-AK1A mill produces 235 hp at 2,400 rpm and 32 inches mp. Keep in mind, this is a significantly derated version of an engine that can develop 350 hp, so it's not even breathing hard at 235 hp.
Page 1 of 5