Tuesday, July 3, 2012
Soloy Cessna 206 Mark II
Transplant a 450 SHP Rolls-Royce turbine onto a stock 206 and, voilá, you have a super Cessna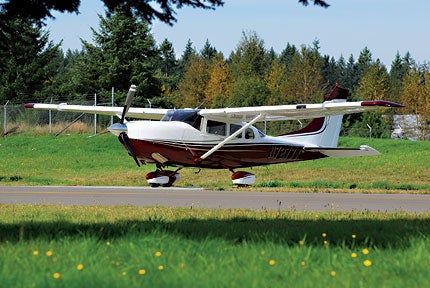 Soloy's Mark II is not your "typical" bolt-on conversion. From the aerodynamically clean cowling to the new engine mounts and the crimped wiring connectors, every detail of the conversion is created using the latest in computer-aided design and manufacturing techniques, so the Mark II stands up to the harsh, off-airport and on-water operations its owner/pilots demand.
There's something that's both a little primeval and 21st century about starting a turbine engine. The rising whine of a turboprop beginning to spool up, turning to a deep roar when fuel is introduced, then screaming up to idle, seems somehow the proper sound for a machine designed to flail the sky into submission.
Take, for instance, the Allison/Rolls-Royce 250, long a stalwart of the helicopter industry. In various iterations, Allison/Rolls-Royce turbines have been installed in production Bell, Enstrom, Eurocopter and Sikorsky helicopters for nearly a half century.
Turbines are, in many respects, the simplest possible power plants, especially in contrast to piston engines. Like a piston mill, a turbine develops power by internal combustion, but in a logical, circular direction rather than slamming a six-pack or more of pistons up and down. Turbines also don't rely on air cooling to keep temperatures in check during low speed or hovering flight. Better still, turbines have only a dozen or so moving parts, compared to several hundred in a piston power.
For all those reasons, turbine engines have proven, by far, the most reliable method of powering rotary-wing aircraft. The Rolls-Royce features a TBO of 3,500 hours, versus a 2,000-hour interval overhaul on a standard 300 hp Lycoming IO-540.
That's perhaps only appropriate, as helicopters often must operate outside normal safety parameters. They can sometimes autorotate to land in a tiny space in the event of an engine failure, but by definition, rotorcraft often extend the normal safety envelope, sometimes pushing the limits of the height-velocity curve in order to accomplish their mission.
In more recent years, the Rolls-Royce 250 turbine has made major inroads into the fixed-wing market, mostly decorating the nose of traditional piston aircraft. These have included the Tradewinds Bonanza, O&N P210 and upcoming 340, Maule M7, Cessna 185, the upcoming production Extra 500 and several other models.
The benefits of a turboprop transplant are well established—more power, a dramatic reduction in engine weight, improved reliability, simpler and smoother operation, more useful load and easier, less frequent maintenance. The negatives are significant but fewer: increased fuel burn, often less friendly noise level, and the big one—higher cost.
The Cessna 206 is another model that lends itself to turboprop conversion. The Stationair has been a stalwart of the Cessna line for nearly a half century, and the type has earned its place as perhaps the most popular utility airplane still in production. Prior to the shutdown of all Cessna piston products in 1986, the stretched eight-seat Cessna 207 was the top of the company's piston utility line, and the six-place 206 was the king of piston freighters.
After a long history of upgrading helicopters and airplanes, Soloy Aviation Solutions of Olympia, Wash., has been installing the Allison/Rolls-Royce 250 into a variety of Cessnas for nearly 30 years, starting with the 185 and, more recently, the 206/207 Stationairs. If you can't afford the big jump to a Caravan, the larger series 200 piston Cessnas are popular machines for hauling pretty much anything to pretty much anywhere.
Page 1 of 3