Monday, March 1, 2004
The 2004 Skylane Goes Glass
Cessna Turned a Lot of Heads When it took its New Baby on the Road
"The situation awareness is the thing that knocks me out," Ortega quickly admits. "Even when you're on instruments, it's more like 'virtual VFR.' You don't have to do much cross-checking. It's just all right there in front of you on the screen."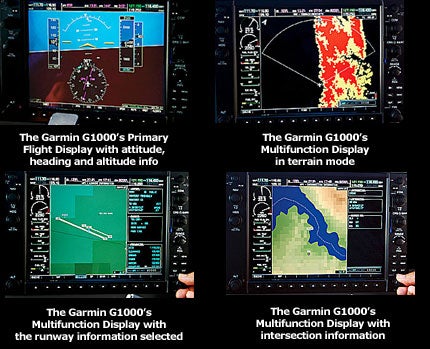 Lucion adds, "Compare this to an old-fashioned attitude indicator and you'll say, 'Holy smokes, I can't fly this thing anymore!'"
But the fire-hose-full of information coming from the Garmin G1000 panel didn't keep Ortega and Lucion from doing some flying the old-fashioned way—by the seat of their pants. After leaving Kansas, their course brought them to the Pacific Ocean at San Simeon, Calif., where William Randolph Hearst built his castle. From there, they simply followed the coastline around Morrow Bay and then north to the cliffs of Big Sur and Carmel in California.
"It was cool flying along Highway 1. I looked down and imagined the first cars driving that road before it was even on the map. Now, here I am, going along the same route at 150 mph, navigating by satellite!" says Lucion.
Below them, the sights ticked by as they continued north: the orchards, beaches, Cannery Row and, finally, the Golden Gate Bridge.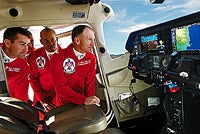 Lt. Col. Richard G. McSpadden, Jr. (far right), Commander of the Thunderbirds, stands with his USAF team members to look at the Skylane's glass panel.
After a schedule of showings, they'll finish the jobs on the West Coast and turn back east toward Kansas. Ortega will report performance information to Cessna and Garmin engineers, and the airplane's forays will cause Lucion's phone to continue ringing. Although plans call for the G1000 to eventually be installed in the C-206 Stationair and the new Mustang jet in 2006, the Skylane will be the first out of the chute this month.
And, so, the show goes on. The new 182 will continue making its personal appearances around the country. Look for a crowd on a tarmac near you. The odds are they're looking at the new glass-panel Skylane.
Page 3 of 3