Thursday, November 1, 2007
The "New" Old Centurion
Now out of production for 20 years, Cessna's top piston single offers good range, excellent stability and reasonable, six-seat comfort for pilots with a yen for a high-wing speedster

The step-up market has always been critically important to the major aircraft companies. There may not be much profit in building trainers, but manufacturers are well aware that pilots tend to buy the same brand in which they learn. A pilot who earns his license in a Warrior, 152 or Musketeer is likely to consider an Arrow, Skylane or Bonanza, respectively, as a first step-up airplane. " />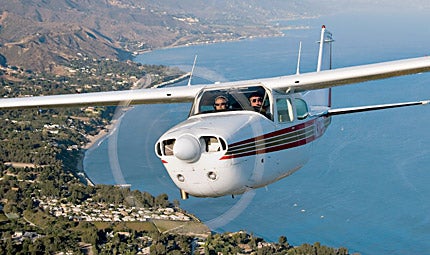 The step-up market has always been critically important to the major aircraft companies. There may not be much profit in building trainers, but manufacturers are well aware that pilots tend to buy the same brand in which they learn. A pilot who earns his license in a Warrior, 152 or Musketeer is likely to consider an Arrow, Skylane or Bonanza, respectively, as a first step-up airplane.

As producers of the 150/152 for more than a quarter-century, Cessna offered a veritable plethora of step-up models. At the bottom end, there were the ever-popular Skyhawk and Cardinal; in the middle, the Skylane and Skylane RG; and at the top of Cessna's piston pyramid, the 210 Centurion.

Introduced in 1960 as a normally aspirated four-seater, the 210 would eventually be offered in three flavors: normally aspirated, turbocharged and pressurized. The turbocharged model was, by far, the most popular: a heavy lifter that could scale the highest mountains in North America and have enough fuel to range out nearly 1,000 nm.

"That combination of talents was one of the biggest attractions for us," says Bob Meng of Everett, Wash. Meng, a former airline pilot, is one of four partners in a meticulously restored 1973 Cessna Turbo Centurion T210L. "The 210 is an excellent cross-country machine, an outstanding people mover with good speed and it makes an extremely stable instrument platform in the process," Meng comments. "Perhaps best of all for our application, it's a great partnership airplane, easy to fly with a big cabin, and its relatively inexpensive to operate."

Meng, now an instructor for yacht operators ("It's a little like FlightSafety International for boat owners") is a partner with Bob Munoz, Norm Van Vectal and Mark Matheson. Collectively, the quartet have been operating their T210L out of Paine Field in Everett for almost a quarter-century, and in the last decade, they've completely rebuilt their airplane.

Page 1 of 4