Sunday, July 1, 2007
The Sierra Stallion
It's not your father's Citation!

Pilots often nickname airplanes they love and, conversely, ones they dislike. There's "Spam Can" for Cessna pistons and there's the denigrating "Fork-Tailed Doctor Killer" for V-tailed Bonanzas; one of the most derisive is "Slow 'Tation" for Cessna's entry-level jet. It's hard to believe, but some folks malign the Cessna Citation as a "near jet" and use other less-than-flattering descriptions. " />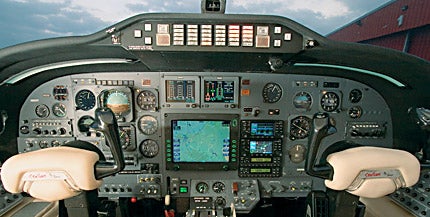 Engine upgrades are common in the piston-engine arena, but they're less common for jets. The economics for jet engines are driven by the fact that they're rather expensive to buy and to maintain. A JT15D overhaul can cost from $175,000 to $500,000+, without any guarantee for final price. Most owners consider an upgrade when their engines reach TBO; in the jet market, that calculation is turned on its head. Resale value of the jet engine as a core is higher when the engine still has time left before TBO. These engines are commonly used as replacements for timed-out engines because of the unpredictability of overhaul costs.
Sierra incorporated several new design features with the engine upgrade: a new support structure for the Williams fan-jet that improves maintenance access of the engine and a new engine inlet/exhaust system. In the cockpit, new, redundant, color, electronic displays replace the dial indicators and are a perfect match for the Williams electronic engine controller.
The Sierra facility is a one-stop shop that can perform all scheduled phase checks during the modification period, and install new avionics, interiors and paint. When you pick the airplane up at Sierra's home airport, it's a virtually new airframe/engine combination.
A recent count showed eight airplanes on the ramp and 10 in Sierra's hangar. By any measure, it's a significant fraction of the Citation fleet. "We've done 28 Eagle II airplanes and 10 Stallions thus far, and we expect to surpass 50 total by the end of the year," Mark Huffstutler explains.
With such an improvement in performance, the Sierra Stallion competes head-to-head with brand-new bizjets in the same weight class. A cruise of 390 knots beats the Cessna CJ2+ and the Hawker Beechcraft Premier hands down. The Stallion's climb rate exceeds the CJ2+'s by 600 fpm; it exceeds the Premier's by 1,200 fpm on two engines and by 400 to 550 fpm on one engine. The biggest difference is maximum fuel payload for the Stallion, which is more than twice that of either brand-new jet—better numbers than new competitors at half the price.
Page 3 of 5