Tuesday, April 26, 2011
2011 Cirrus SR22T: Commemorating 10 Years Of GA Innovation
Cirrus refines the SR22T with a 2011 Limited Edition

Cirrus Aircraft and Plane & Pilot launch on an air-to-air photo flight of the 2011 Limited Commemorative Edition SR22T and the Vision SF50 jet.Video by Ron Mohrhoff.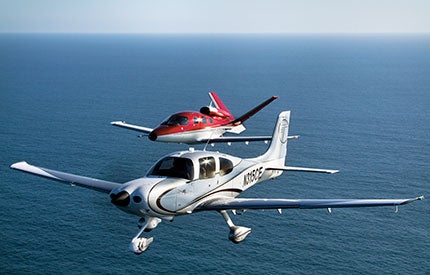 In recognition of the company's 10th anniversary, Cirrus produced 10 Limited Commemorative Edition SR22Ts.
It's hard to believe it has been 10 years since Cirrus launched the SR22. It's doubtful that many people had any idea that, from its humble beginnings in 1984, the company that brothers Alan and Dale Klapmeier built would produce what would become the world's best-selling single-engine piston aircraft. The SR22 has been so successful that, since its debut in 2001, it has maintained that position through the decade. Cirrus is celebrating those 10 years of innovation with the launch of their Limited Commemorative Edition SR22T, which we got to fly on a recent sunny afternoon in Orange County, Calif.
No mention of Cirrus aircraft can be made without speaking of technical innovation. Cirrus changed the game when they introduced the SR20—which was certified by the FAA in 1998—and then raised the bar even further when they unveiled the SR22 a scant two years later. The new Limited Edition SR22T takes the hallmark of the Cirrus brand—unique engineering—and refines it even more. We thought it would be interesting to take a closer look at the new SR22T in the context of the innovations Cirrus has brought to the market.

Back in the pattern and after a beautiful flight along the shoreline, I came away with the impression that this is truly a cross-country airplane.

My partner in this quest is Ken Goble, Cirrus' Regional Sales Director for Southern California and veteran demo pilot. With thousands of hours in the SR22T, he knows the nuances and character of this airplane better than anybody. The first thing I notice—and what nearly every pilot notices when first settling into the Cirrus—is the space. Cirrus pioneered this roomy cabin, starting their design with the idea of a sphere instead of a rectangle. Goble explains that passengers feel much more comfortable in the auto-like interior. "Sit in the back," he implores. As I do and he moves his seat all the way back, I brace for the "knee crunch." But as his seat comes to its full-back position, I have room to spare— lots and lots of room.
Page 1 of 5