Tuesday, April 26, 2011
2011 Cirrus SR22T: Commemorating 10 Years Of GA Innovation
Cirrus refines the SR22T with a 2011 Limited Edition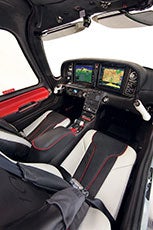 The Perspective avionics system features synthetic vision as well as an infrared Enhanced Vision System. Reminiscent of a high-end sports car, the red, white and black leather interior, with a leather side stick, is special for the limited-edition model.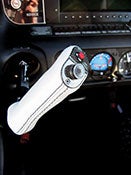 The Limited Edition ratchets up the comfort factor with its use of a charcoal headliner and interior. The SR22T's amphitheater visibility makes the whole interior calm and airy. The contrast of dark and light gives the effect of a naturally lit gallery. Add the all-leather seats, the leather stick grip on this edition and the composite material components throughout the cabin, and it feels like a luxury automobile. Passengers—especially neophyte fliers—instantly feel at home. "It eliminates the claustrophobia typical of lots of other airplanes," adds Goble.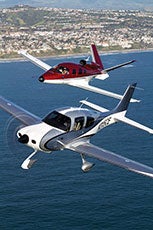 The Limited Edition SR22T also boasts air conditioning, which further civilizes the flying experience. Following Cirrus' considerable commitment to safety, shoulder harnesses have built-in airbags, and the roomy cabin belies the fact that it's built as a roll cage to further protect occupants in up to a 3 G rollover. Of course, the CAPS (Cirrus Aircraft Parachute System) stands ready to bring the aircraft safely back to earth with the pull of a handle.
Walking around the airplane, Goble shows me other refinements that include the Cirrus wing. The wing features a discontinuous leading edge that visibly divides the wing into inner and outer sections. NASA research originated the design that works by varying angle of attack: The outboard section of the Cirrus wing flies with a lower angle of attack than the inboard section. When the inboard section—which produces much of the lift—stalls, the outboard section keeps flying, allowing aileron control throughout the stall.
Goble also explains that the SR22T's TKS-based ice protection allows the airplane to be certified for flight into known icing conditions (FIKI). This added milestone in Cirrus' vast collection of innovations adds even more utility to an airplane that's already known to be a great cross-country machine. The FIKI modifications on this new SR22T are more than just the "weeping-wing" anti-ice system. When activated, the FIKI system coats all the flight surfaces, including the vertical stabilizer and elevator tips. The system incorporates ice lights that illuminate wing surfaces in low light, windscreen nozzles to assure the pilot an ice-free view on approach, backup pumps and filters, and a range and endurance display on the MFD. The FIKI system provides 150 minutes of endurance at normal flow, 75 minutes at "high," and a new "max" rate of 37.5 minutes at maximum secretion for very heavy buildup.
Page 2 of 5