Tuesday, April 21, 2009
A New Cirrus With A New Boss
Flight Into Known Icing is added to the SR22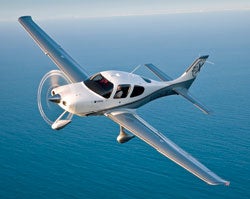 To protect the wings and tail from ice accumulation, the system uses titanium leading-edge strips, with laser-drilled holes to allow for seepage of the glycol fluid out and onto the wing surface. During developmental ice testing, Cirrus realized that the amount of surface area that needed protection on the leading edge of the old system wasn't quite large enough to provide adequate protection for the certified version. As a result, the titanium leading-edge strips have been extended approximately one inch aft on both the upper and lower surfaces of the wing.
The empennage of the aircraft also saw a number of noticeable design changes to support certification. The vertical stabilizer is now protected, whereas it previously wasn't. Beyond this feature, Cirrus has now added ice protection to the leading edges of the elevators on the outboard sections that are exposed to free-stream airflow.
Surprisingly, despite the additional equipment added to the new FIKI-approved aircraft, Cirrus successfully maintained a useful load similar to that of the noncertified version. A fully equipped SR22 Turbo with Perspective and air-conditioning has an approximate useful load of 900 pounds.
Due to the significant differences between the FIKI-approved aircraft and the previously installed system, there's currently no retrofit solution available to bring the older aircraft up to certified status.
Training
Knowing when and how to use ice protection has been a topic of confusion for general aviation. For aircraft with or without certified ice protection, there's little to no training required for pilots operating in or around icing conditions.
Cirrus has taken a unique and, frankly, really smart step to help mitigate the amount of confusion while trying its best to ensure that pilots are trained before utilizing their icing system in actual conditions. As part of the certification of the FIKI-approved Cirrus, the company added a section to its POH that requires a pilot to have received icing-specific training prior to operating in icing conditions and mandates that pilots attend annual training to operate in FIKI conditions. Training is to be provided through a combination of online resources and a sign-off by a Cirrus instructor.
A Big Step In The Right Direction
Cirrus' work toward bringing to life a certified FIKI system is a tremendous step in the right direction for not only Cirrus, but also general aviation as a whole. FIKI approval significantly increases the viability and safety of personal aviation in single-engine, piston-powered aircraft. Cirrus' move will likely force its competitors to look long and hard at providing a comparable certified system, which, in the end, is good for the industry.
Page 4 of 5