Tuesday, July 20, 2010
Cirrus SR22T: Turbo Without the STC
Cirrus Design now offers a turbocharged model with a factory Continental
Cirrus: Your VIP Host To The Red Bull Air Race
Reaching a young, global audience
By Jessica Ambats
It's hot, hazy and muggy. The streets are bustling with outdoor cafes, live music and traffic jams. The Staten Island Ferry, loaded with commuters, languidly departs Battery Park, and a speedboat named
The Beast
creates a menacing wake as it jostles tourists up and down the Hudson River. All pretty standard for New York City in June. But just across the harbor, what's about to transpire is anything but ordinary. Nearly 135,000 spectators—not thwarted by rising temperatures from the relentless sun—are gathered at Liberty State Park to watch this weekend's biggest attraction: the Red Bull Air Race (RBAR).
Beneath the Big Apple skyline, 12 pilots from 10 countries will bank, pull and roll their way at 230 mph through a 3.5-mile racetrack of inflatable pylons just 10-30 feet above the water. Their only goal: to be the fastest. The more experienced pilots make it look like no big deal, but the flying—which at times spikes up to 12 G's—is anything but that. During a recent training session at the Perth, Australia, race, rookie pilot Adilson Kindleman of Brazil stalled his MXS-R and crashed into the Swan River. (Rescue teams pulled him to safety in less than 60 seconds.) And last month in Windsor, Ontario, Australian Matt Hall managed to recover from a stall, but not before his MXS-R wingtip and wheel fairing hit the water.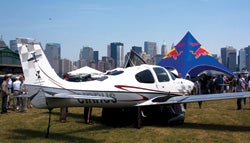 This Sunday in New York, it's down to the final race with just four pilots. Only three will make it to the award podium. U.S. pilot Kirby Chambliss comes into fast view as his Edge 540 rounds the Statue of Liberty and Ellis Island, and he's full throttle through the first set of air gates. In what seems to most of us to be a blurry flash, Kirby goes—count 'em—
wings level, knife edge-knife edge-knife edge, wings level, knife edge, knife edge, wings level, wings level, vertical, roll, wings level, knife edge, knife edge, wings level, knife edge-knife edge-knife edge and, ladies and gentlemen, wings level.
But his clock is operating on a different scale. Kirby's time, 1:12:09, is 1/300th of a second slower than the previous racer, Brit Nigel Lamb, and that makes all the difference. Whether Kirby will land a spot on the winner's podium is now in the hands of the two remaining racers.
Spectators who want a high-end experience at the RBAR can opt between two hospitality areas: the Race Club and the High Flyers Lounge. Both feature the best seating on living-room furniture, show center views, five-star gourmet menus, all the amenities and, new this year, up-close access to Cirrus Aircraft. As part of a new partnership between Cirrus and RBAR, there's a full-scale mock-up of the SR22 (in a special checkered race paint scheme) and the Vision jet at each race. RBAR—which is televised live and attracts more than 100 international journalists to each race—brings a global awareness to aviation, and Cirrus has been paying attention—smartly so.
"The Red Bull Air Race represents a passion for precision and performance," commented Cirrus CEO Brent Wouters at a prior event held at Santa Monica Airport to launch the partnership. "The event and its breathtaking select global venues are a spectacular aviation experience. These locations showcase the unique lifestyle of convenience, comfort and access that Cirrus owners enjoy around the world. The synergy in this partnership is natural, and through Red Bull Air Race we are reaching a new audience that is experiencing Cirrus Aircraft for the first time."
Page 4 of 5