Tuesday, April 23, 2013
Down & Dirty
The Cirrus SR22 tries out the Idaho backcountry and redefines airplane camping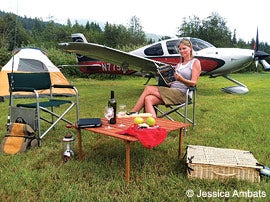 The Cirrus SR22T is as at home on a backcountry camping trip as it is at a luxury airpark. Above: Olson Fenwick enjoys a good magazine and a picnic at Cavanaugh Bay Airstrip.
Into The Woods
So, we took a factory-fresh SR22T and flew it to Northern Idaho for a few days with the idea of getting down and dirty. The Cirrus would be rubbing shoulders with Husky aircraft and Super Cubs and everything in between. To make it real, we piled four FAA-size adults and all our baggage and camping gear into the SR22, and set out for Cavanaugh Bay (66S), a docile-but-challenging little strip on the pastoral shores of Priest Lake, just a few miles this side of the Canadian border.
With us on our mountain escape was Matt Bergwall, Cirrus demo pilot and marketing representative. He'd help shake off the SR22's "city-ness" and transform it into a proper mountain flyer. Our base of operations for the trip was Sandpoint, Idaho, where the SilverWing luxury airpark development (
www.silverwingatsandpoint.com
) and a paved runway would provide the last vestiges of civilization.
Loading up the Cirrus, you can't help but notice the amount of space available. We heaped luggage, camera gear, camping supplies, extra headsets and everything else into the cavernous baggage compartment. We even snaked a couple of long fishing poles into the rear fuselage without a hitch.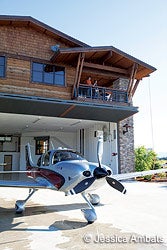 SilverWing at Sandpoint features hangar homes.
In its 2013 model announcement, Cirrus unveiled the most requested modification ever from the large and vocal owner's group: greater payload. One of the criticisms of the earlier Cirrus SR line was that it had limited carrying capacity. With the newest-generation SR22, Cirrus has increased the certified gross weight from 3,400 pounds to 3,600 pounds. This is significant because it makes the SR22 a true four-place airplane with a useful load of 1,340 pounds. It will carry four average-sized adults and full fuel. In fact, with the five-seat version, it will carry five average-sized adults and enough fuel for a 700 nm nonstop trip. That makes the SR22 and SR22T the highest in-class useful load aircraft available today.
In the mountains, Garmin's Perspective panel is a joy to fly. There's almost nothing it can't do. The 12-inch screens dominate the cockpit—as they should—and provide every kind of information a pilot needs to conduct a flight safely. Besides being lighter than any of Cirrus' other flight-deck options, the Perspective panel is unique in that it's integrated completely with the aircraft itself. The whole aircraft system—airplane, autopilot, sensors, avionics, controls and engine—communicates. The GFC 700 autopilot is also legendary, and it deserves that moniker.
One colossal advantage in the backcountry is the Synthetic Vision feature of the Perspective system. In rugged country like this, navigating terrain in limited visibility can be treacherous. While there's no substitute for good flight planning, Synthetic Vision knows exactly where the terrain is and how it affects your flight path—regardless of outside visibility—and displays that environment on your PFD with a three-dimensional representation of the world. Used with the 3D obstacle depiction, it makes backcountry flying safer by giving the pilot an optical advantage, and advantages are what safety is all about.
Page 2 of 5