Wednesday, September 1, 2004
The Cirrus SR22-G2
The evolution continues in the Monument Valley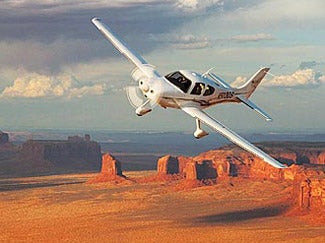 The Navajo Indians believe that everything has its own rhythm, its own beat, its own time to birth, to flourish, to change, to adapt. That's how the land and its native people originated, they say. The story goes that the world began in darkness, but the people weren't happy in that place. They gradually moved up through three more worlds before coming to where they are now, a sacred land known as the Monument Valley. " />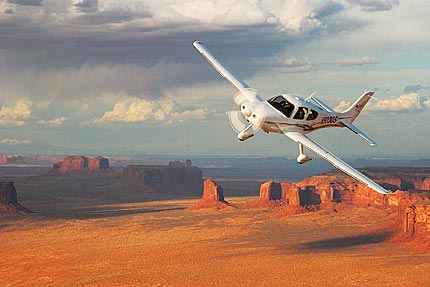 The Navajo Indians believe that everything has its own rhythm, its own beat, its own time to birth, to flourish, to change, to adapt. That's how the land and its native people originated, they say. The story goes that the world began in darkness, but the people weren't happy in that place. They gradually moved up through three more worlds before coming to where they are now, a sacred land known as the Monument Valley.
The area itself is a testament to the Navajos' beliefs about change and evolution. The valley is a collection of towering buttes, spires and mesas carved out by time, winds and rain, near the four corners where Utah, Colo-rado, New Mexico and Arizona meet. It was here that we met the newest evolution of the Cirrus SR22, the -G2, banking over trails below that were scratched into the landscape by cowboys, Indians and settlers on horseback centuries ago. Looking at the new SR22-G2 in flight over the Monument Valley looked like an anachronism, out of place and time. But a closer view reveals that they have much in common: a story of evolution.
The Origins
For brothers Alan and Dale Klapmeier, founders of airplane manufacturer Cirrus Design Cor-poration, they found their own rhythm in aviation several years ago. The story goes that the evolution of the new Cirrus SR22-G2 began when they were mere infants. Their mother would take them to the Chicago O'Hare Airport where the sounds of jets and airplanes flying overhead would calm the two crying brothers to sleep.
Dale reminisces, "Our mom would say that she would take us to O'Hare because we would sit there quietly at the parking ramp, watching the airplanes take off and land. This would give her a couple of hours of quiet time reading a book while we watched airplanes."
In the years that followed, the brothers' fascination with aviation didn't diminish. And just like the plateau that soon started to rise gently to form what is now called the Monument Valley, the seeds of Cirrus started to take form. Alan immediately found himself sketching airplane designs, while Dale, the younger of the two, built and played with them. It was a scene that would play an important role in their lives several years later.
"Alan is the big dreamer," explains Dale. "I'm more the hands-on realist. I like to be down there and building the airplane, and he's the one who's drawing the pictures of what we should be building."
Page 1 of 4