Wednesday, September 1, 2004
The Cirrus SR22-G2
The evolution continues in the Monument Valley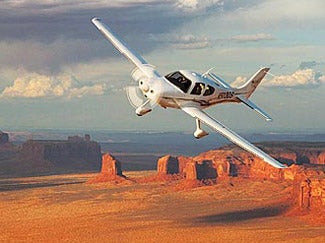 The Navajo Indians believe that everything has its own rhythm, its own beat, its own time to birth, to flourish, to change, to adapt. That's how the land and its native people originated, they say. The story goes that the world began in darkness, but the people weren't happy in that place. They gradually moved up through three more worlds before coming to where they are now, a sacred land known as the Monument Valley. " />
He continues, "From the beginning, the goal was always building production airplanes. What we wanted to do was be the next Cessna, to have a manufacturing facility that's building a whole line of airplanes and pumping them out at great rates. But the only way we could get started was in the kit industry. So here were two guys out of college who decided they had a better idea for aviation, a neat airplane that they could design, develop and build kits for. We had no money, maybe more ambition than sense."
So in 1987, the Klapmeiers introduced their first airplane, the VK30, at the Oshkosh AirVenture Air Show. The five-seater was powered by a 300-hp Continental pusher engine and had a cruise speed of over 200 mph. But when people didn't line up to buy it as they had hoped, the brothers decided to learn more about what people wanted from an airplane and refocus their attention to their original goal—to build certified production airplanes.
But in their quest to build their first production airplane, they soon realized that they shouldn't be talking to pilots about what they want from an airplane. Instead, they turned to the non-aviator, a practice that they continue to hold to this day.
Dale explains, "When you try to sell an airplane to a pilot, it's not that difficult because pilots love all aircraft. But behind every pilot, there's somebody who has the veto power. So we decided to design the airplane for the person who's not in the front left seat, even though that person is extremely important. How do you make sure everybody else is comfortable with the idea of that person flying in the front left seat? We started with the concept of the SR20 and we worked at it from every angle, from finding a better way to open the doors to safety considerations. It all came down to comfort, the complexity, the ease of operation and designing an airplane so that you don't get sick in the backseat, it's easy to operate, it's got nice flying qualities, it's easy to manage and it's safe."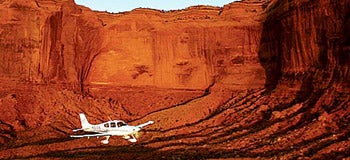 The new Cirrus SR22-G2 kicks it up a notch. It incorporates the SR22's popular features, such as the all-glass cockpit with the Avidyne FlightMax Entegra PFD and MFD. Avidyne will soon upgrade the system to include TAWS, a flight director and XM Satellite Weather. In the meantime, the interior of the -G2, has been revamped with a new, standard leather interior that integrates a brand-new composite material called Soft Touch, while a completely re-engineered fuselage reduces its overall empty weight and may add a few knots in airspeed.
And during the course of envisioning a new concept of aircraft that's simpler for both pilots and non-pilots alike, Dale and Alan ended up masterminding a new cockpit technology that revolutionized the entire industry, the effects of which continue to reverberate throughout aviation, with every major aircraft manufacturer following suit. It was the birth of general aviation's own all-glass panel, the primary flight display (PFD). In keeping with the Klapmeiers' vision of simplicity, the new PFDs not only allowed for easier instrument reading and scanning, but the particular PFD they chose, the Avidyne FlightMax Entegra, also allowed pilots to be integrated into the aircraft system, giving them the freedom to choose the information they want, whenever and wherever they need it.
Dale emphasizes, "The PFD has certainly been a driving goal for us from the very beginning. We wanted to find solutions to make an airplane very intuitive to fly. So in the early 1990s, we talked to quite a number of avionics companies, asking them to make a bigger, horizontal screen for us. We worked closely with them to produce, first, the multi-function display, followed by the primary flight display that we were happy with, and when we introduced it in our airplane, we knew that it would change the face of aviation forever."
Page 2 of 4