Wednesday, September 1, 2004
The Cirrus SR22-G2
The evolution continues in the Monument Valley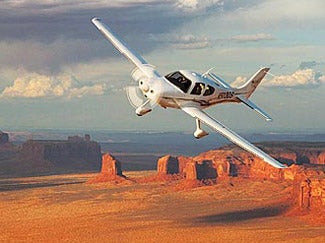 The Navajo Indians believe that everything has its own rhythm, its own beat, its own time to birth, to flourish, to change, to adapt. That's how the land and its native people originated, they say. The story goes that the world began in darkness, but the people weren't happy in that place. They gradually moved up through three more worlds before coming to where they are now, a sacred land known as the Monument Valley. " />
Along with these design improvements, the manufacturing process that went into creating the SR22-G2 has allowed for an entirely new fuselage that resulted in an overall empty weight reduction, which increased the payload and useful load. Other manufacturing enhancements include a new two-piece lower cowling that simplifies the removal and installation for servicing, improved access to the hardware that connects the wing spar to the fuselage, convenient tail access for future options and improved CAPS access for routine inspections.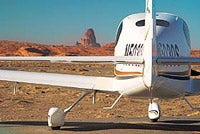 Overall, the new and improved package that became the SR22-G2 was a sight to behold, especially against the backdrop of the ever-evolving Monument Valley, where director John Ford shot classic Western films such as Stagecoach and She Wore a Yellow Ribbon. Three generations of full-blooded Navajos came to admire the second generation that Cirrus has to offer. Shannon Young, accompanied by her mother, Gloria, her daughter, Diamond, and her brother, Jason, were on their way into the township of Kayenta when they spotted the SR22-G2 at the airport and couldn't resist taking a closer look at it.
"We get some airplanes that fly tourists in and out of here in order to see the Monument Valley," claims Shannon. "But we haven't seen anything quite like this on our airstrip."
Avid aviation enthusiasts, Shannon and Jason quickly shuffled their way onto the cabin to see the latest in cockpit avionics. They were accompanied by five-year-old Diamond and Gloria, who were both mesmerized by the colorful screen of the Avidyne FlightMax Entegra glass panel.
"There are a lot of cool things in this. My gosh! Look at how they make them now!" exclaims Shannon with amazement.
They were soon joined by Wilma Toledo, a full-blooded Navajo herself, working next door at the Amigo Café, a restaurant that serves Indian fry bread and tacos to anyone who comes to visit. She adds, "It's very cool. There's a lot to understand about it that makes it cool."
The Next Generation
And a lot more things are in store for the company and its airplanes, that is, according to Dale, who isn't satisfied with sitting on his laurels. He and Alan are already planning their next adventure, the next step in their evolution process.
"We're full of dreams," says Dale with a twinkle in his eye. "Aside from switching our efforts to ramping up our service centers and making sure that we take care of our customers better than anyone else, we're still focused on our ultimate goal—to have a full line of airplanes.... And someday, I hope to build small jets for the owner sitting in the front left seat. We've got a long road ahead, but we'll get there. We'll do it."
In the meantime, the SR22-G2 has plenty of time to find its own rhythm, its own beat, to take its place in the aviation community in much the same way as the red-rock formations in the sacred land that now honor the Navajo. Like the Monument Valley, the Cirrus SR22-G2 is a witness to the beauty of evolution.
For more information, contact Cirrus Design Corporation at (218) 727-2737 or log on to
www.cirrusdesign.com
.
Page 4 of 4