Wednesday, August 1, 2007
District of Columbia
A turbocharged manifestation of desire

When you fly different-make and -model airplanes, it can be hard to keep them straight in your radio calls. I've called a TBM, flying at FL280, a Cirrus. I've called a Diamond Star a Cessna, and I've called a Warrior a Husky. Usually, I catch myself immediately and correct my call, but there are times in life when calling something, or someone, by the wrong name can be hazardous to one's health. A radio call generally isn't one of them. That's why I've decided to call any airplane I'm pilot-testing, "Baby." So last week, when I was just getting my feet wet with a 12-hour-old Columbia 400, after botching a few radio calls, the airplane thence became Baby N452BS, and that's no bravo sierra." />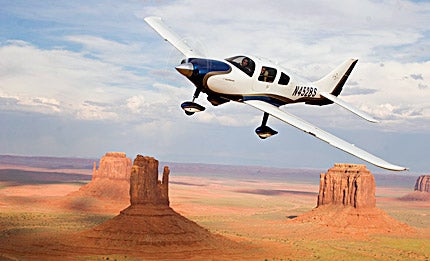 When you fly different-make and -model airplanes, it can be hard to keep them straight in your radio calls. I've called a TBM, flying at FL280, a Cirrus. I've called a Diamond Star a Cessna, and I've called a Warrior a Husky. Usually, I catch myself immediately and correct my call, but there are times in life when calling something, or someone, by the wrong name can be hazardous to one's health. A radio call generally isn't one of them. That's why I've decided to call any airplane I'm pilot-testing, "Baby." So last week, when I was just getting my feet wet with a 12-hour-old Columbia 400, after botching a few radio calls, the airplane thence became Baby N452BS, and that's no bravo sierra.
The airport in Bend, Ore., where Columbia builds its impressive airplanes, is idyllic—in the shadows of the snow-capped Three Sisters mountains, and adjacent to horse farms with rolling pastures and white fences. And the planes Columbia churns out of the plant on the field's east side are jaw-droppingly attractive—and that I felt even before I went for a mini-checkout with Columbia's Emily Watters.
As Emily and I settled into one of the cleanest piston-aircraft cabins I've ever seen, I was reminded of a conversation I had a while back with Bob Lutz, previously Chrysler's vice chairman and currently GM North America's chairman. Over a couple Beck's, and while he pulled a few drags from his ever-present stogie, we had discussed his automobile design principles. His comments about macro and micro design, regarding such cars as the Viper, applied as easily now to the design elements of the Columbia 400; the carbon and fiberglass 400 looks good from afar, and it looks good up close. Indeed, the design of the 400 and the G1000 system is terrific—buttons and switches click satisfyingly, and the high-quality cabin accoutrements are in the right places (except for that pocket way under the instrument panel; it doesn't seem convenient for anything). One of the biggest problems I've encountered in my clashes and romances with technology is how rare it is to find sophisticated equipment executed with a commensurate level of style, ergonomics and logical knobology. And while the G1000 can definitely stand to be more intuitive, as has been said before, once you get the hang of it… But for fans of the Avidyne Entegra, Columbia still offers that system as an option in new 350s and 400s.
Apples To Apples, Or Apples To Oranges?
Right from the get-go, I found myself comparing aspects of the 400's operation not to the airplanes I expected to be reminded of, but rather to the TBM 850 I had learned to fly for another story [Pilot Journal, March/April 2007]. This was largely due to the fabulous Garmin GFC 700 Flight Control System (FCS), which is integral to the airplane's glass-panel G1000.
Taxiing out, I'd have sworn that the 400 had a steerable nosewheel, had I not known better, because the rudder had so much authority. Even with power way back and in a leisurely taxi, I never had to use differential braking to hold centerline until I made the sharp turn toward runway heading for my pretakeoff checks.
Page 1 of 4