Tuesday, March 6, 2012
Carbon Dating
Beautiful, refined, muscled like a linebacker: a Cub for the hotrod soul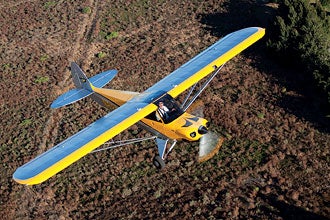 Yakima, Wa.-based CubCrafters has enjoyed steadily growing sales, and at the beginning of 2012, the company reached its 200th delivery, making it the top-selling American-made LSA in the U.S. market.
Also: Both windows open and securely latch up in flight, and are now removable; the cockpit is four inches wider at the shoulders than a traditional Cub; instrument panel is four inches further forward than a Super Cub, which can get cramped in the front seat; the 4130 chrome-moly, reinforced, welded tube fuselage was tested to 1,865 pounds, 40% higher than the LSA spec calls for. And much, much more to be sure.
One more thing: Carbon Cubs are 85% of all CubCrafter's sales, with the rest represented by Top Cub and Sport Cub models.
Cub Love And Then Some
There's likely nothing that hasn't already been said about the lovable mystiqsue of the Piper Cub. But I'm still curious about what draws John Moreland and veteran pilots like him to Cub-like flight.
"I got a scholarship with the Civil Air Patrol out of high school," he tells me after our flight, "then worked for an FBO in Burlington, Vt. After college, I joined the Air Force and was there for 15 years. I've been a pilot for 46 years.
"More than 30 years in the airline business was work," Moreland continues, "A good job, but it was work."
Now, Moreland gives every appearance of a vitally healthy senior: This is no aging pilot driven by flight medical-anxieties into LSA flight. Said another way: I wouldn't want to line up across from him in a Sunday pickup football game in the park. Yet here he is, giving demo rides and extolling the virtues of the Carbon Cub SS.
"Being affiliated with CubCrafters has simply put the fun back into flying for me."
You hear that from veteran pilots all the time. Taildraggers connect you to the ocean of air, like a sailboat does to the sea. You're more fully engaged in the nuances of flight and aerodynamics in a taildragger.
No wonder Cub-style LSA represent fully a quarter of all U.S. sales. And with the CC340 breathing fire into the Carbon Cub SS's performance envelope, no wonder CubCrafters has surged to the front of the pack.
Page 4 of 4