Tuesday, August 24, 2010
King Kong "Little" Cub
CubCrafters' top LSA offers a big surprise when the throttle goes forward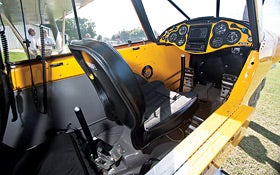 CubCrafters offers several instrument panel configurations for the Carbon Cub. Pictured above is the Deluxe VFR Panel, with a Garmin 496 (that can be replaced with a Garmin aera 550 for pilots who prefer a touchscreen interface), Garmin 327 GTX transponder and Garmin SL40 Comm. The Executive Glass Panel option includes a Garmin GDU 370 and Dynon EFIS.
Thanks to CAD (Computer Aided Design) engineering and extensive use of lightweight/high-strength carbon-fiber parts rather than wood or aluminum, the Carbon Cub SS scores a low 900-pound empty weight against a 1,320-pound max gross. This leaves 420 pounds of useful load, the result of significant weight savings in the wings, fuselage and forward of the firewall.
Most of the time additional cabin space doesn't weigh much, and accordingly, the SS sports a wider, more comfortable cabin than the original Cub. Specifically, the cabin is four inches wider at the shoulders, and the panel is pushed four inches farther forward.
Despite its light weight, CubCrafters' ultimate LSA doesn't suffer any loss of strength to other airplanes in the class. In fact, it has actually been tested to part 23 standards, 1,865 pounds—40% above normal LSA limits. The carbon-fiber material used so extensively in the airplane's construction contributes to a stronger airframe and wing structure. Perhaps in keeping with the name, carbon fiber is used in a variety of interior and exterior parts.
The Carbon Cub still manages to retain its Cub personality, but no matter how many hours you have in the original Piper, you know the ride in the SS will be special when the throttle goes against the forward stop. The response is immediate and gratifying. Power loading is one sure measure of a given airplane's potential takeoff and climb performance—the lower, the better.
In the case of the Carbon Cub SS, each horse is powering only about 7.3 pounds of airplane. Compare that with other general aviation airplanes, and you'll note it's one of the best power loadings of any personal/business aircraft on the market.
Among certified models, the Extra 300 and Pitts S2C score power-to-weight ratios below 7 pounds per horsepower, two of the few airplanes with a lower power loading than the Carbon Cub. CubCrafters' own certified Top Cub uses a similar 180 hp Lycoming against a gross weight of 2,300 pounds to record a power loading of 12.8 pounds/hp.
Numbers can drive you nuts in this business, but they're necessary evils. The point is that the Carbon Cub SS is one of the most enthusiastic short-field airplanes on (or in this case, above) the planet. The SS scores among the best takeoff numbers of any flying machine without a rotor overhead.
Page 2 of 6