Tuesday, August 24, 2010
King Kong "Little" Cub
CubCrafters' top LSA offers a big surprise when the throttle goes forward
Flying The Inside Passage
By Jessica Ambats
The glaciers, fjords and remote islands that define the rugged coastline from Puget Sound through southeastern Alaska are an aviator adventurer's dream come true. It's the kind of place that makes you want to set up camp and disappear for a long time. In May, I joined CubCrafters demo pilot Pete Vinton on a portion of his journey in a Carbon Cub SS from Valdez, Alaska, to Yakima, Wash. We didn't have a long time and we didn't have camping gear, but we did have perfect weather—a rarity for the Inside Passage—and we had a perfect airplane for the mission.
In fact, our airplane was a champ! A few days prior, veteran bush pilot Paul Claus had flown Five Papa Charlie to victory at the legendary STOL competition in Valdez, where the best take off and land in ridiculously short distances. And so, armed with life vests, extra containers of 100LL and a bunch of energy bars, we launched from Alaska's capital, Juneau, on a clear, calm Monday morning.
DAY ONE
Juneau-Ketchikan, 2.5 hrs
Mendenhall Glacier isn't on our direct route, but we overfly it anyway, just because. It's immense. We circle a Siberian husky dogsled camp and spot mountain goats perched upon steep, rocky terrain. Turning south, the buildings and cruise ships of Juneau fall out of sight and within minutes we're in another world, ensconced in a spectacular wilderness. To the left are massive snowcapped mountains and secluded turquoise lakes. To the right, the Pacific Ocean sparkles. We open both windows and take it all in.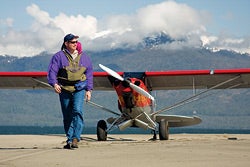 CubCrafters demo pilot Pete Vinton, who also flies Boeing 777s for United Airlines, explores a sandbar in the Hecate Strait near Prince Rupert, British Columbia.
Ketchikan-Prince Rupert, 1.2 hrs
Sheer rock walls rise from the shoreline, and our wandering route crosses over a lengthy stretch of water where we catch a glimpse of a gray whale. After touchdown in British Columbia, we learn that the Canadian customs agent has left for the day. But with a quick call we're on our way again.
Prince Rupert-Bella Bella, 3.3 hrs
A solitary sandbar in the Hecate Strait begs for the Carbon Cub to visit. We oblige. Nearby, sea lions observe with idle curiosity as our 26-inch tundra tires greet the pristine sand. We shut down the motor and notice a large bald eagle perched upon the weathered branches of a fallen tree. The stoic bird is in its element, and so is the Cub.
Bella Bella-Port Hardy, 1.0 hr
In a race against the sun, we land to a crimson northern sky and walk to the Airport Inn. I use the web browser on my cell phone to file our eAPIS manifest for tomorrow's trip, as required by U.S. Customs.
Page 5 of 6