Tuesday, June 3, 2014
Finding A Czech Mate For Flying Adventures
The European SportCruiser LSA comes into its own
Some pilots have found the Sport-Cruiser a little too responsive, and the elevator has been redesigned to reduce pitch sensitivity. The SVAP+ also has an option for a ground-adjustable three-blade Sensenich prop, rigged to deliver a 117-knot cruise speed. N545SC's older Woodcomp prop, chosen for climb performance, will max out at about 105 knots in cruise. But, at about 65 knots on climbout, our VSI was registering a positive rate of 900 to 1,000 fpm.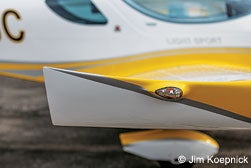 Electric pitch and aileron trim, actuated by four buttons atop the stick, is welcome when you want to hand fly rather than engage the autopilot, relieving, for example, lateral pressure due to a fuel imbalance. And, even without the full SkyView suite, the Dynon avionics in the LTD offered envelope protection; in a descent with the autopilot engaged, the autopilot shallowed the descent about eight knots before we hit Vne, while it lowered the nose when we were about the same margin from a stall in a climb. If you inadvertently stumble into IMC, you can reverse course with one command, and the autopilot executes a 180-degree turn. No need to worry about coolant loss in the liquid-cooled Rotax, either. Simply power back to 4,800 rpm—65% power—and you can continue to your destination.
How a trainer falls out of the sky can be as important as how it flies, and the SportCruiser's stall characteristics are suitably polite. Noticeable buffeting gives fair warning of the impending stall, and the nose falls straight ahead, the break coming at about 39 knots clean and 32 knots in the landing configuration. Woodard performs them on every demo flight. "I want them to see the stall isn't going to hurt them," he said.
A Budding Relationship?
Meanwhile, I was quickly warming to the SportCruiser with its excellent visibility and roomy cabin, about two inches wider than a Bonanza's. If I was actually transitioning to a SportCruiser, I realized I'd have plenty of room for luggage with two levels of storage behind the seats and two wing lockers that can each hold an additional 22 pounds of gear. For distance traveling, the 15 gallons of fuel per side equates to more than 500 nm of range.
Moreover, if I had an SVAP+, in addition to SkyView I'd have the added benefit of armrests, improved ventilation, a big handle to help open and close the canopy, and other interior enhancements—improvements integrated into the SportCruiser shortly before the introduction of the SVAP+. That "eHarmony for pilots" was starting to sound more tempting by the moment.
The SportCruiser is sold in three models: The Classic, with steam gauges, has a base price of $129,450, with options that can bring the cost up to about $145,000; the SVAP Light, with one Dynon screen, is priced from $143,200 to about $160,000; the SVAP+, with dual Dynon screens, is priced from $163,350 to about $170,000.
Page 4 of 4