Thursday, March 1, 2007
TBM 850 Scorching The Airways With Style
Meet Socata's answer to the very light jet

Whoa, the simulator at SimCom never accelerated like this! I've just advanced the throttle of N850LA, a brand-new EADS Socata TBM 850 with barely 100 hours, and I feel like I've floored the gas pedal in a candy-apple red 1969 Chevy Camaro with a big-block V8. Sure, the sound is different, but I'm pinned to my seat all the same." />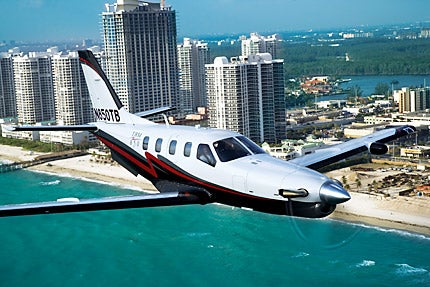 Whoa, the simulator at SimCom never accelerated like this! I've just advanced the throttle of N850LA, a brand-new EADS Socata TBM 850 with barely 100 hours, and I feel like I've floored the gas pedal in a candy-apple red 1969 Chevy Camaro with a big-block V8. Sure, the sound is different, but I'm pinned to my seat all the same. That this TBM also happens to be candy-apple red makes sense, and if there were such a thing as airway police, they'd surely be gunning for this sweet ride. I know I am.
This is my first takeoff in the real, live airplane after my week of TBM initial training at SimCom in Orlando. So after bringing up the engine's torque to 40% for a quick check to ensure gauges are in the green and I'm good to go, I ballpark the throttle to around 95% torque and start to rocket down the runway like Big Daddy Don Garlits in a top-fuel dragster. As the TBM's Pratt & Whitney PT6A-66D quickly spools up and gathers its head, I've got one eye on the runway centerline and the other watching my power. As I finely nudge the torque to 100%, trees and white stripes wash into a blur.
My rotation speed of 85 knots sweeps by in an instant, and I apply a little back pressure on the yoke to nestle the flight director's flying wedge into the command bars I preselected before taking the runway. By clicking the "Go Around" button on the throttle and selecting heading hold on the autopilot, the flight director will indicate a smart seven-degree climb angle and runway heading. Gear up, flaps up, inertial separator closed, and sometimes at this point, autopilot on and holding 130 knots indicated—a good climb speed. Through 1,000 feet, I ensure the torque is a touch less than 100%, move the flap lever up to the 850 detent and bring torque slowly up to its new max value of 121.4. On takeoff and in terminal operations, the TBM 850 is identical to the TBM 700 and automatically torque-limited to 100%. With the flap switch in the 850 detent, I'm the torque limiter, and I better be careful, lest I risk an overtorque down low or an interturbine overtemp up high. Either excursion beyond
POH
-specified parameters will precipitate a visit to maintenance and possibly the need to write a big check. As we settle into a 2,800 fpm climb to flight level (FL) 270, I reflect on why I'm even here, newly certified and flying a $2.8 million TBM 850 that I'd love to adopt and give a good home.
Page 1 of 5