Thursday, March 1, 2007
TBM 850 Scorching The Airways With Style
Meet Socata's answer to the very light jet

Whoa, the simulator at SimCom never accelerated like this! I've just advanced the throttle of N850LA, a brand-new EADS Socata TBM 850 with barely 100 hours, and I feel like I've floored the gas pedal in a candy-apple red 1969 Chevy Camaro with a big-block V8. Sure, the sound is different, but I'm pinned to my seat all the same." />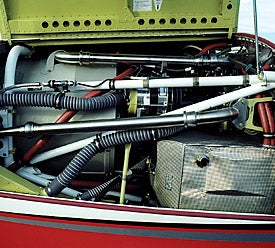 Ninety knots on short final to runway 09 and prop to reverse on rollout had me making an early turnoff from the long strip. As I found on my trans-Atlantic voyage, the TBM 850 in the airport environment should be a breeze for any competent pilot managing the systems of high-performance piston/TAA singles or twins. Sure, engine start and management are turbine-specific, but overall—no sweat.
After refueling, my companion Michael Sarsfield, Socata's Director of Sales for the southeast, manned the radios, and we requested an unimpeded and direct climb to FL280. Blasting off from Savannah's runway 36, we told ATC that all we cared about was climbing unimpeded, the direction didn't matter. Eight-and-a-half minutes later and holding 130 knots indicated and 765 degrees ITT through the climb, we were passing through FL180, where I pushed (STD) on the RVSM-compliant altimeter. The engine in the TBM 850 will put out full-rated power until about FL250, which is another advantage over the 700. As the King KFC325 autopilot captured FL280, we were 14.5 minutes from brake release and had gone through 21 gallons of Jet A out of 281.6 usable. Not too shabby.
The TBM is a pleasure to hand-fly. Control feel is smooth and tight without much friction. To achieve the FAA-mandated 61-knot stall speed for a single, fowler flaps take up most of the wing's trailing edge. As such, the TBM's ailerons are rather short. To increase aileron effectiveness, they're assisted by spoilers. In this 7,430-pound-gross airplane, trim was definitely my friend, especially rudder trim, as after power changes, I'd click off the yaw damper and recenter the ball.
The TBM is also, thus far, the easiest plane I've ever had the pleasure of escorting down an ILS back into PDK. The King autopilot is simple to operate after minimal study, and ILSs, both coupled and uncoupled, were cake—operationally and knobologically, at least.
And speaking of knobs, I asked Nicolas Chabbert, President of Socata in the United States, if they've got any plans for the TBM 850 to sport a glass cockpit anytime soon. "Availability of a reliable and an easy-to-transition-to avionics suite is more important to Socata than being first to market a new technology," he said. "We have continued to enhance the avionics on the TBM in line with this policy, and the positive response from our user base indicates that we have made the correct decision."
Page 4 of 5