Tuesday, May 21, 2013
Turning Airpark Dreams Into Lifestyle Realities
The Daher-Socata TBM 850 Elite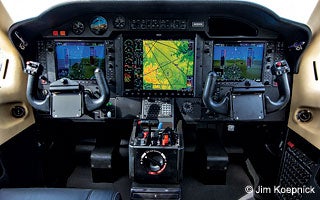 Two 10.4-inch primary flight displays flank the center 15-inch multi-function display on the instrument panel. The Garmin G1000 avionics system has been standard on the TBM since 2008.
As lightning pierced the night outside the manorial Welcome Center, the heart of BSFA's community life, we planned today's flight, selecting a destination at once symbolic and pragmatic: Muncie, Ind., 230 nm north. Ordinary to some, the city's airport (KMIE) is home to Muncie Aviation, the world's oldest Piper dealership, and is one of the first TBM sales and service centers in the U.S. We had an appointment to tour their facility and have a business lunch.
On the ramp, the TBM is sleek and muscular, its elongated snout of a cowl and nosebowl air intake suggesting an apex avian predator. Externally, there's little to distinguish the 850 Elite from the first TBM, the 700A, introduced in 1990. ("TB" is for Tarbes, site of Socata's headquarters in France, and "M" is for Mooney, Socata's erstwhile partner until leaving the program in 1991.)
The 850 model, introduced in 2006, replaced the 700 series' 700 shp Pratt & Whitney PT6A-64 with the 850 shp PT6A-66D, offering improved climb and cruise performance. (The extra 150 shp isn't available during takeoff or go-arounds while landing, as we'll say more about that later.)
The 850 Elite, unveiled at Sun 'n Fun 2012, features a reconfigurable cabin that allows removal and reorientation of cabin seats for expanded cargo space, and seating options that can be accomplished in about 30 minutes. Optional carbon-fiber interior edging and global Satcom also are available in the Elite.
Interior And Exterior
The widened passenger/cargo door, introduced with the 700B in 1999, is one of the few noticeable changes to the TBM's original airframe. Electrically operated, the door opens upward while foldout airstairs swing down from the cabin floor.
Even with all the seats in, the TBM has ample hauling capacity. Both back seats fold forward for easy access to the netted 220-pound baggage area at the rear of the cabin. "You can carry saddles," Sarsfield said helpfully, a definite plus for some of the BSFA crew. The nose baggage locker can hold an additional 110 pounds. There's much else to impress on the walkaround.
The aircraft's clean sheet wing was designed to optimize both speed and maneuverability, developed by Socata in partnership with a pair of French research centers.
To simplify maintenance, the de-icing boots are on removable panels, three on each wing, facilitating repairs or swap-outs if a boot needs replacement or a leading edge gets dinged. The already beefy landing gear were bulked up for the introduction of the 700C2 in 2003.
Page 2 of 6