Thursday, June 19, 2008
A Trainer With Attitude
The Diamond DA20 brings fun and enthusiasm to flight training
Handling is exemplary. Stalls are pretty much whatever you need them to be—gentle and forgiving, if that's your wish, and aggressive if you're determined to spin the airplane. Pushrods rather than cables provide quick, positive roll response, and pitch control strikes exactly the right median between too quick and too slow. I flew a one-hour air-to-air session in the Eclipse in conjunction with this story, and it was relatively effortless to keep the little airplane tucked in 20 to 30 feet from Jim Lawrence's Canon camera.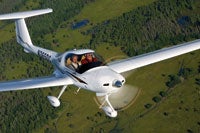 One interesting aspect of the DA20: It's not currently certified for IFR. It's possible to equip the airplane with full IFR instrumentation and avionics, and you can train for the instrument rating under the hood in VFR conditions, but you can't legally fly in the real, live clag. Lightning-strike certification is the hang up. Diamond currently has no plans to certify the Eclipse for lightning strikes, so the airplane is limited to operation in VFR conditions.
Another consideration on the Diamond DA20 is that the airplane has an upper temperature limit. The DA20s are pure composite designs, and for that reason, the primary color is white with a few stripes down the middle. Technically, the no-fly temperature that might result in delamination is so high that it's unlikely you'll ever see it. The limit is 55 degrees C (131 degrees F). Even if you let the airplane sit unprotected for a week in Phoenix, Ariz., in August, you'd be unlikely to encounter such a high airframe temperature.
Perhaps above all else, Diamond's DA20-C1 Eclipse is first and foremost a thinking man's airplane. It's a comfortable ride for two, performance numbers are generally excellent for the horsepower, fuel burn is modest and the composite structure suggests minimum maintenance.
On top of all that, the Eclipse is a fun ride that should endear both current and future pilots to the Diamond line and make stepping up to the larger, more powerful Diamonds irresistible.
SPECS:
2008 Diamond DA20-C1 Eclipse
Page 3 of 3