Friday, September 1, 2006
Across The Nile
Flying a DA40 From Europe To Africa
The following day, cloud cover is quite high; it seems an eternity before we climb over it. Up above, the snow on Mount Kilimanjaro reflects sunlight into the clear air. We follow its south wall, covered with glaciers, toward Kibo and Mawenzi, its volcanic neighbors. Unfortunately, the weather beneath us is rapidly getting sour, and the holes in the clouds are becoming sparser. We decide to proceed west over the lunar landscape of the desert, where water is replaced with colorful dried mud. The ground must be really hot—the heavy turbulences make us feel as if we're in a washing machine.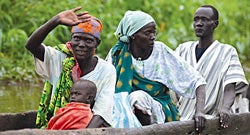 Although Matevz often encountered difficulties obtaining permits for flights, his trip was a most remarkable experience.
In the distance, lights reflect Lake Victoria, the spring of the Nile. We have arrived at the mouth of the river that created civilizations and then witnessed their rise and fall. Ngorongoro Crater is shrouded in clouds so we fly over and decide to descend at Tarangire National Park, spiralling through a small gap. As we proceed over wide Masai grassland toward the shores of the Indian Ocean and Zanzibar, the weather deteriorates.
In a few days we find ourselves again in Kenya. Lake Turkana, the biggest desert lake in the world, receives its water almost entirely from the Omo River that springs from Ethiopia. From here, the Valley of Life stretches northeast to Addis Ababa, Ethiopia's capital. We wish to go north to Tana Lake, but our hopes are downed by military demands that we take soldiers on board to supervise the flight. Because the airport is 2,400 meters above sea level and the temperature is 25-degrees F, we'd need to take off in 4,000 meters. We were already at our limit with two on board.
Because of war, direct flight to Eritrea isn't possible, and Djibouti is the only way to the Red Sea. To the northeast, we follow a 1,000-meter rift, whose cultivated fields remind me of terrace fields in Nepal. Flights like these, between the Egyptian coasts of the Red Sea and the Mediterranean Sea, are scarce in any pilot's life. The 2,000-meter peaks of the Arabian Desert shine in the early sunlight as we glide in cold air over steep gorges. We feel no turbulence. Quietly we sit in the cockpit, hoping not to disturb the natural balance. Even the engine noises stay out of our consciousness, and it seems that everything has found its place. "This is close to perfection," says Joseph, and I can only nod.
Page 3 of 3