Tuesday, February 24, 2009
DA 40 XLS: The Innovator Keeps Getting Better
With the addition of Garmin's Synthetic Vision Technology and other improvements, the popular composite four-seater reaches a wider audience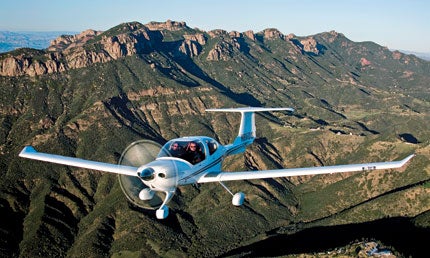 The day was a dappled gray when I arrived at Long Beach Airport in California for my chance to fly the brand-new Diamond DA40 XLS. Rain had been forecast for the afternoon, but the thin overcast had given way to broken clouds with a deep blue sky peering from behind them. Morning rain had washed the air clean, and the light winds made it a perfect day to fly.
So much has been written about Diamond and the DA40 that I wanted to do something different. Instead of merely putting the airplane through a repertoire of aerial tasks, I decided to fly the XLS like an everyday pilot and take the futuristic-looking craft on a little cross-country. My partner would be Robert Stewart, territory manager and demo pilot for USAERO (
www.usaero.aero
), an authorized Diamond distributor for the Southwestern United States.
The Diamond story should be well-known by now. The company began as a motor-glider manufacturer in Austria in 1981. Acquired by the Dries family in 1991, the company started producing the HK36R Rotax-powered motor glider and its derivative, the DV20 "Katana," that same year. The two-seat Katana was certified in the United States in 1993, and Diamond (then called "Dimona") established a large-scale manufacturing facility in London, Ontario, Canada. After much success in the States and internationally, Diamond announced the DA40 in 1997.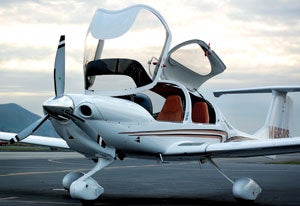 From the beginning, Diamond has been a pioneer and innovator in areas like composite construction and safety testing; it served as the launch platform for Garmin's G1000 glass panel. The new DA40 XLS is part of a family of ingenious airplanes that includes the DA20, the DA42 twin-engine aircraft (with choice of diesel or Lycoming engines), the FADEC-controlled, five-seat, pressurized DA50 and the much-anticipated D-JET.
It's important to note that this XLS is a far different airplane from the DA40 that was certified a decade ago. The original had a different propeller and exhaust system and a lower gross weight, as well as subtle differences like different speed fairings and larger tires. Diamond has learned from each model and has evolved the DA40 with hundreds of improvements, large and small. Those who flew the DA40 in years past and think they know the airplane might be very surprised.
Page 1 of 5