Tuesday, October 23, 2007
Diamond DA40 XL: Polishing The Diamond Star
The new Diamond DA40 XL incorporates new aerodynamics, an improved, composite prop and an advanced exhaust system to increase the knot count

Ask anyone who's tried to wring more speed from an existing aircraft design, and you'll learn that the task is very difficult. Hot-rodders have long been adding speed on cars and motorcycles by installing progressively more powerful engines, and that works great for machines that roll on wheels. Unfortunately, it's not nearly as effective on airplanes." />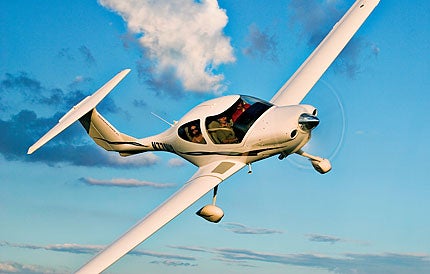 Ask anyone who's tried to wring more speed from an existing aircraft design, and you'll learn that the task is very difficult. Hot-rodders have long been adding speed on cars and motorcycles by installing progressively more powerful engines, and that works great for machines that roll on wheels. Unfortunately, it's not nearly as effective on airplanes.
Weight and aerodynamics aren't terribly important on mere earth-bound conveyances, but they can make all the difference on flying machines. For airplanes, the trade-offs of a larger, more powerful engine may not be worth the effort. More horsepower usually means more weight and higher fuel burn, which can demand bigger tanks and reduce payload, unless you raise the gross, which reduces speed and demands more horsepower, which requires more fuel and higher weight… You get the idea.
The late Roy LoPresti, grand guru of all things aerodynamic, generally disdained power increases for more speed. Roy was my Yoda on anything aeronautical, and he used to tell me that if cooling drag didn't increase, the standard formula for calculating speed increase with extra power was to expect the cube root of the percentage of horsepower increase in knots. Translation: If you had a 160-knot airplane, added 30 hp to a 300 hp engine (10%) and didn't increase the cooling drag, you could reasonably expect to see a speed increase of about 2.16% (2.16 x 2.16 x 2.16=10). That's an unimpressive 3.5 additional knots (160 x 0.0216=3.5).
The smartest possible course would be to combine aerodynamic improvements with more horsepower, and that's exactly what Diamond Aircraft (
www.diamondaircraft.com
) has done on the new Diamond Star DA40 XL. Diamond recently introduced the result of its improvement campaign on what was already one of the best airplanes in its class.
The horsepower improvement is subtle but effective. Rather than recertify the airplane with a more powerful engine, Diamond contracted with Power Flow Systems (
www.powerflowsystems.com
) of Daytona Beach, Fla., to have a tuned exhaust designed specifically for the Star's injected Lycoming IO-360-M1A.
Tuned exhausts can work wonders at recovering the horsepower that's normally lost to an inefficient exhaust system. Power Flow has been building model-specific tuned exhausts for several years, concentrating first on airplanes powered by the 150/160 hp Lycoming O-320s and later on those fitted with 180/200 hp O-360s and IO-360s. The company has made a name for itself with exhaust mods designed for a variety of airplanes, primarily the Piper Warrior, Cessna Skyhawk, Grumman Tiger, Cessna Cardinal, Piper Archer and a number of 180 and 200 hp Mooneys.
Page 1 of 5