Saturday, May 1, 2004
Diamond Goes Glass
First to market with the Garmin G1000, the new DA40 Star is out of the gate

No one manufacturer takes the industry by storm these days. Beech did it with the Bonanza in the '40s and '50s, Cessna rocked general aviation with the Skyhawk and Skylane in the '60s, and Mooney rescued itself from bankruptcy with the outstanding 201 in the '70s, but today's market is so much smaller that any runaway success is unlikely, if not impossible. But Diamond is set to change all that. " />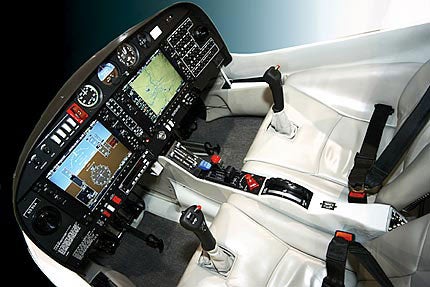 No one manufacturer takes the industry by storm these days. Beech did it with the Bonanza in the '40s and '50s, Cessna rocked general aviation with the Skyhawk and Skylane in the '60s, and Mooney rescued itself from bankruptcy with the outstanding 201 in the '70s, but today's market is so much smaller that any runaway success is unlikely, if not impossible. But Diamond is set to change all that.
When Diamond Aircraft of Weiner Neustadt, Austria, introduced the 2000 model Diamond DA40 Star, it was an instant standout among 180-hp, fixed-gear four-seaters. Much more than simply a stretched version of the two-seat DA20 trainer, the Star was a truly new airplane, although it wisely retained a strong family resemblance to the company's popular two-seater. The DA20's waspish empennage and T-tail were still there, as was the short chord, long-span, high-aspect ratio wing with upturned winglets. The Star also sported a forward-opening canopy, ventral fin and composite MT prop.
The Star joined an already crowded market, not surprising in view of the overall popularity of the class. Fixed-gear, 180-hp singles often are regarded as minimum entry-level family airplanes, capable of lifting 2+2 or even a full four folks with reduced fuel. For that reason, a half-dozen major manufacturers offer their own version of the formula. The Star is the newest airplane of the lot, the only all-composite machine in the class, a 21st-century design with a truly modern look.
Newest doesn't automatically translate to best-selling, however. The Star's older competition is well-entrenched, in some cases, boasting a quarter-century or more of market acceptance and sometimes trading on sales histories of 2,000 units or more. Piper's Archer/Challenger/Cherokee 180 is the oldest model in the class and one of the most established. Drawing on a tradition that stretches back to 1963, the Cherokee is a proven winner among buyers of mini-family-haulers.
Page 1 of 5