Friday, June 1, 2007
Diamond Twin Star: 21st Century Multi
Diamond Aircraft, the world's third-largest manufacturer of GA, fixed-wing aircraft, is betting that the diesel-powered Twin Star will be the multi trainer of the future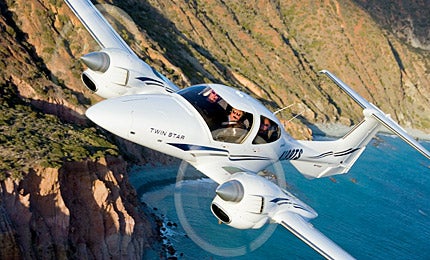 Perched in the catbird seat of Jerry Barto's Diamond Twin Star, 11,500 feet above Palm Springs, I can't help reflecting that this truly is a new-generation airplane. Calling any flying machine 21st century has a nice ring to it, but the DA42 truly deserves that accolade. From concept to power to configuration, it has about as much similarity to the old light/light twins as does a new Infiniti G35 to a '57 Chevy.
Using max cruise power, my flying Infiniti is tripping along at three times the freeway speed; meanwhile, it's sipping a mere 12 gph total, surprising economy for a twin (and not bad for a single, as well). While Diamond Aircraft didn't conceive the Twin Star design primarily as a cross-country machine, the airplane is capable of range well beyond the province of most standard singles and twins.
As if to prove the point, one Diamond pilot demonstrated exactly what the Twin Star was capable of during his return flight from Oshkosh AirVenture to Wiener Neustadt, Austria, in August 2004. The pilot supplemented the airplane's 76-gallon wing tanks with a 26-gallon ferry tank and flew 1,900 nm from St. John's, Newfoundland, Canada, to Porto, Portugal, in 12.5 hours, using 42% power. The Twin Star burned only 72 gallons of jet fuel, averaging a mere 2.85 gals./engine/hr. for the trip, meanwhile clocking a groundspeed of 152 knots.
Admittedly, the Diamond pilot had help from average 30-knot tailwinds, but the flight was an excellent example of what's possible with the Twin Star's remarkably efficient, Thielert, diesel engines. The eastbound ferry flight represented the first nonstop Atlantic crossing by a diesel-powered aircraft.
If economical cross-country travel is one of the Twin Star's major talents, it was only one of the airplane's original missions. The Austrian company foresaw a large market for a light/light multi, and that's not a surprise, considering the relative dearth of new minimum multis in the last quarter-century. New light twins temporarily disappeared from general aviation with the demise of the Duchess in 1982.
Prior to that time, there had been a half-dozen attempts to market entry-level twins, only one of which (the Piper Seminole) was modestly successful. Even the Seminole was discontinued in 1982, then revived from 1989 to 1991, and finally brought back into continuous production in 1995.
Now, Diamond has a whole new take on the light/light-multi formula, offering an innovative, turbo-diesel-powered, FADEC-controlled, multi-engine trainer with all the advantages of the mini twins, plus a larger cabin, better range and significantly simplified operating systems.
Page 1 of 3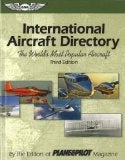 International Aircraft Directory

Plane & Pilot Magazine