Tuesday, March 27, 2012
Diamond's Twin For 2012
The Diamond DA42 comes with your choice of Lycoming GASOLINE or Austro diesel engines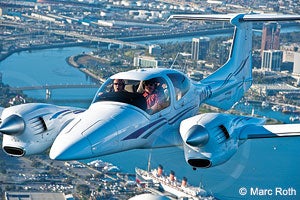 Garmin G1000 avionics dominate the 50-inch-wide cockpit, adorned with leather seats. Startup and flight operations are simplified with the FADEC system and single-level power controls. The center sticks are arguably the most effective and comfortable method of controlling an aircraft, taking a cue from pure stick-and-rudder pilots, as well as hotshot F-15 fighter jocks.
In order to replicate the efficiency of the Thielerts, Diamond initiated its own diesel design in 2007. These were improvements derived from the same Mercedes turbo-diesel technology eployed by Thielert, but produced at Diamond's Wiener Neustadt factory in Austria. The resulting 2.0 liter Austro AE300 is a geared, FADEC-managed, turbo diesel with single-lever control, rated for 168 hp. R&D and EASA certification demanded two additional years, and at this writing, the engines have been certified in Europe, Russia, South Africa, Canada, the U.S., Brazil, Ukraine, South Korea and China. The new airplane was dubbed the DA42-NG (for Next Generation), and it was introduced in mid-2009.
Diamond had to drop the Twin Star name over the objection of Eurocopter, who apparently feared that some might confuse Diamond's twin with their EC 355 TwinStar Helicopter.
This meant that for the last two years, there have been two Diamond twins to choose from, and despite its better efficiency, the diesel model had (almost) all the aces. The Austro 300-powered Twin Star was certified at 4,189 pounds, while the Lycoming model was stuck with a gross of 3,935 pounds. This left a useful load on the diesel of 1,070 pounds versus 1,180 pounds on the avgas version. (Incidentally, pilots in the EEU pay takeoff, landing, parking and overnight fees based on weight in kilograms. The odd certification weights translate to more logical kilograms—1,650 kgs for the NG and 1,550 kgs for the L360.)
The reason for the disparity was simple. Diesel engines are far more efficient than avgas powerplants, offering a specific fuel consumption on the order of .37 pounds/hp/hour versus .42 pounds/hp/hour, but they achieve their efficiency at the cost of extra weight. In the DA42's case, the Austro diesels add over 170 pounds/engine to empty weight. Diesels generate extremely high compression ratios and temperatures, and the engines must be built to withstand those conditions.
This left first-generation DA42 owners with three choices, none of them especially attractive: 1) Live with what they had and hope for the best; 2) Sell their airplanes for whatever they could get and start over at a loss; or 3) Upgrade to the Lycoming or the new Austro AE300 engines at a cost.
Today, the resuscitated, diesel-powered DA42 brings new enthusiasm to the light-twin market, albeit at a somewhat higher price. Base tab for an entry-level Twin Star is 599,500 Euros, about $799,500 at the late-January 2012 exchange rate. This compares to about $624,500 for a DA42-L360.
We contacted a local California flight school that had one of the original Thielert airplanes totally upgraded to the new Austro engines, TKS, the bubble canopy, synthetic vision and other goodies to see what the new DA42-NG configuration offers. Angel City Flyers (www.angelcityflyers.com) on Long Beach Airport in Southern California is an all-Diamond school, and they had two freshly converted DA42-NGs on the line plus a fully operational Twin Star simulator. Owner Seosamh Somers agreed to let us fly one for a few hours to appreciate the new engines and all the other improvements.
Page 2 of 4