Tuesday, October 22, 2013
Fourth Time's A Charm
In its fourth iteration, Diamond's DA42-VI is a far better twin
Performance enhancements were next. Here again, the primary task was to increase performance without recertifying any portion of the aircraft. The Diamond twin was originally conceived with a pair of German Thielert 1.7 Centurion turbo-diesels on the wings, each rated for 135 hp. These were later upgraded to 2.0 liters displacement, but still rated for the same 135 hp.
Following the bankruptcy of Thielert in 2008, Diamond CEO Christian Dries decided the company would begin building its own engines. Diamond constructed a new facility on Austria's Wiener-Neustadt Airport, and the much improved 168 hp Austro 2.0 engines premiered in 2009 on the DA42NG (for Next Gen).
Diamond is betting its future on what some have incorrectly defined as an antediluvian technology. It's true the Austro engine is a piston mill that burns jet fuel, a diesel, complete with 17:1 compression ratio, no spark plugs and a heavy, cast iron block. Ironically, it's a diesel that's not even approved to burn diesel fuel (assuming you could find any).
That's fine with Diamond, as they'd just as soon distance themselves from the whole stigma of diesel, a primitive propulsion system that's well over a century old and long outdated as an aircraft propulsion system.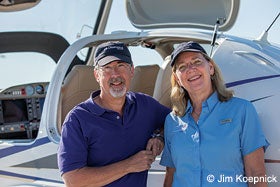 Dave and Susan Passmore purchased the first of the new series IV aircraft.
Or is it? Today's diesels have about as much resemblance to the originals as does a Falconer V12 to a LeRhone rotary. Twenty-first century diesels are as modern as tomorrow, many based on Mercedes Benz turbo-diesel R&D. Most fly clean and efficiently with the help of FADEC (Full Authority Digital Engine Control), so much so that a diesel-powered DA42 was the first of its type ever to cross the North Atlantic nonstop without ferry tanks.
Diesels burn jet fuel, so they cleverly side-step considerations of fuel availability, since jet fuel is becoming readily available worldwide. Conversely, the 100LL avgas supply is slowly diminishing around the globe, either by political mandate over environmental concerns or the simple law of supply and demand.
Major oil companies that refine avgas are in business to make money, and that means volume. The volume of avgas worldwide is shrinking. Mobil is already out of the avgas business, and other companies are considering production cuts so they can allocate their resources to more profitable products. Viable alternative fuels are under development for present and future avgas aircraft, but if they ever do come to market, they'll almost undoubtedly be more expensive than today's 100LL. In Europe today, jet fuel generally sells for at least $1.00/gallon less than avgas, another significant benefit of a jet A-powered aircraft.
Page 2 of 6