Tuesday, July 14, 2009
Something Like A Phenomenon
Flying Embraer's first entry-level jet, the Phenom 100
Phenom 100: By Ron Mohrhoff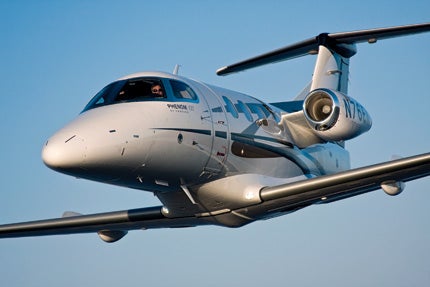 There's a saying, "A plane usually flies like it looks." I put that to the test on Embraer's latest release, the Phenom 100. My first impressions of the Brazilian-made machine? It looks big, really big. It looks fast and sporty, with its sleek nose design and relatively short wings. It looks like a real-deal corporate jet, beyond a VLJ.
Walkaround
My review started with a detailed walk around the aircraft exterior. I started at the door. Ask any aircraft designer what one of the hardest parts to design is, and you'll likely get the following answer: the door.
Embraer put a tremendous amount of effort into designing the Phenom's door, making those lucky enough to board feel as if they're getting into a Gulfstream, not a jet that costs a fraction of the price. A simple twist of the embedded door handle begins an impressive mechanical ballet as the massive airstair door, with perfect balance, lowers to the ground, providing access to the cabin.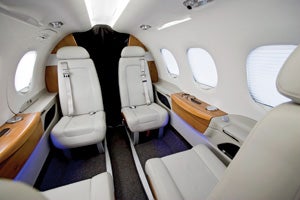 The particular aircraft I evaluated was equipped with the optional premium passenger door, which includes stainless-steel supports that hold the door at the proper height, once deployed. The premium door also adds LED lighting to brighten up the airstair for those late-night entries. What's more striking is how well balanced the door is when you need to close it. It literally takes just your index finger to push up on the handrail and lift the door to the closed position—very impressive engineering.
As I walked toward the nose of the aircraft, it was hard not to notice the height at which the aircraft sits. The ground clearance on the Phenom 100 is about the same as on the Hawker Beechcraft Premier 1A. On the left side of the nose is the baggage area. Due to the location of systems in the nose, Embraer was challenged to put much useful baggage space there. With a total baggage capacity of about seven cubic feet in the nose, you're limited to a small handbag and/or chocks and engine covers in that space. The larger and more practical baggage space is in the aft fuselage, accessed beneath the left engine; it holds 53 cubic feet of space. There's a forward cabin wardrobe and seven cubic feet in the aft cabin lavatory cabinet.
Page 1 of 5