Tuesday, February 25, 2014
Beautiful, Nimble, Stout And Fast…
The Extra 330LT hits a homerun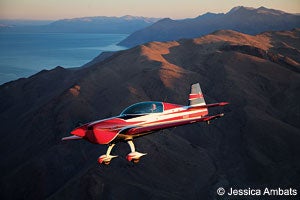 The new Extra 330LT is a great cross-country performer. With a top speed of 205 KTAS, it covers a lot of ground in a short time, and the big canopy provides a spectacular view along the way.
Next, there's the engine. The AEIO-580-B1A Lycoming engine delivers 315 hp and is equipped with a fully inverted oil and fuel system. That's a lot of power for an airplane with an empty weight of only 1,493 pounds. The adjustable MT, three-blade, composite prop has fat blades optimized for converting engine power to thrust. Fuel is supplied through connected wing tanks or an aerobatic tank located just forward of the front passenger seat. The akro tanks hold 17.7 gallons, which makes it easy to get out to a nearby aerobatic box, fly some akro, and still get back on the ground with a legal 30-minute reserve. The full-fuel capacity of 58 gallons provides cross-country VFR endurance of just about three hours.
Then, there's the panel. If you want to travel in style, the LT has it all—ranging from an Aspen PFD and multifunction display to a Garmin GTN 650 touch-screen GPS/navigator. Also new is electric pitch trim. The older trim systems in Extras were effective, but somewhat clunky set-and-forget friction-locked mechanical levers. This new trim system provides fine adjustment for nearly hands-off flying. Hidden below the panel, there's even an automotive-style power jack, in case you want to run another portable device in flight. The rudder pedals in the back are electrically adjustable, so it's quick and easy to properly position the pedals. For those who might want an autopilot, the TruTrak Sorcerer works really well as an uncertified option.
Finally, there's the fit and finish. The paint on new Extras is world class. It's now done with water-based paints that can be very precisely applied. The surfaces are completely smooth and flawless, with no discernable ridge where colors meet. The new paint schemes are modern, exciting and enticing—just the thing for a high-performance plane like the Extra. Walk to the front of the plane and look at the air inlet. Even the stainless-steel inlet screen is a work of art. Look closely, and you'll notice that the screen has the three-wing Extra logo embedded in the design. Check out the airframe: Every seam is even and every line perfect. The 330LT fuselage incorporates a new swing-up hatch that allows easy access to a small baggage compartment directly behind the rear seat. Big enough for a small, soft bag, this is a big improvement over the small, hard-to-access baggage area offered in earlier models. As you move around to the interior, you'll find the finest European stitched leather covering the contoured seats. A five-point ratcheted Hooker harness is standard for each seat. Finally, the panel is finished in polished black carbon fiber that provides a no-nonsense, high-tech look.

If you want to travel in style, the LT has it all—from an Aspen PFD and MFD to a Garmin GTN 650 touch screen.

Strap In And Blast Off
After the air races, I met with Doug Vayda, the director of sales and chief pilot for Southeast Aero at Reno Stead airport for a quick tour and demo flight of a brand-new 330LT. Since I've been flying Extras for many years, Vayda kindly agreed to let me have the pilot seat in back.
So, what's it like to fly the LT? The first thing to keep in mind is that it's a lot of engine attached to just a little bit of airplane, so things happen pretty fast. Startup is pretty much standard Lycoming. Mags on, mixture, throttle, prop full in, boost pump on for five seconds, close the mixture and crack the throttle open. Spin the prop and apply fuel when the engine kicks over. I immediately noticed just how smoothly the IO-580 runs—both at idle and at full power. Just keep in mind that there isn't much distance or soundproofing between that big engine and the cockpit. There's no sugarcoating the fact that Extras are loud, so a good headset is required. Although a few noise-cancelling headsets will work, many owners find that passive in-ear solutions work better. Either way, with the right headset, noise isn't a problem.
Page 2 of 4