Tuesday, August 9, 2011
High-Wing Sleeper
Meet a top-quality, good-cruisin', fun-flyin' German composite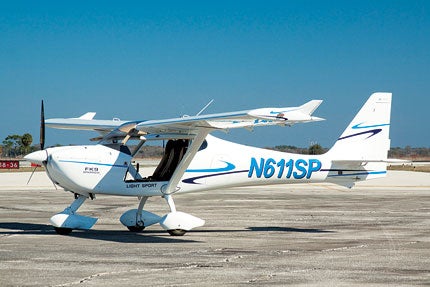 Developed by Germany-based FK-Lightplanes, the FK9 ELA Executive is a friendly airplane that offers excellent cockpit visibility, with overhead and rear windows, and features a BRS parachute for safety. The aircraft that we flew for this report was nicknamed Sparrow by its owner.
As my aerial host Mike Hansen climbs us through 2,500 feet to top the afternoon bumps, I'm already feeling settled in with my guest chariot, the FK9 ELA Executive.
I've wanted to fly the ELA, (which isn't an E-LSA—it stands for European Light Aircraft) for some time. It sports graceful compound curves and a strong composite/hybrid construction. And the FK9 series of aircraft, designed and developed since 1989 by Otto and Peter Funk of Germany-based FK-Lightplanes, is highly respected overseas, if not well known this side of the Big Water. It's time to correct that inequity.
A Fine Pedigree

Hundreds of well-made, sweet-flying FK aircraft are flying worldwide. The company was heralded in Europe as the top "ultralight" manufacturer last year over other powerhouse builders like Flight Design and Remos. You likely know of one model—the stylish, star-crossed FK14 Polaris, rebadged a few years ago as the SRS and intended as Cirrus Aircraft's S-LSA.
Alas, when the economy's Grim Reaper began swinging its indiscriminate scythe, the SRS program was shelved in favor of a more robust revenue producer: the Cirrus Vision Jet. A contractural embargo between Cirrus and FK restricted the FK14's introduction to Yankee country, since Cirrus wanted to keep its options until its own economics improved, so the FK14 has yet to debut.
And that's a double "alas," because Polaris is a gorgeous, perky low-wing flivver that could take the market by storm, just like the short-lived PiperSport.
Last April, a thrilling, newly reworked taildragger version, the FK14 LeMans, knocked everybody's socks off at Aero, the air show/convention in Germany.
The LeMans' exotic retro-style, double-bubble, side-by-side open cockpit recalls romantic flivvers of yore such as de Havilland's Gypsy Moth. Simply put, it's a jazzy, rakish beauty.
Thus, FK-Lightplanes, a progressive, top-notch company that continues to produce the folding-wing, popular FK9 MK IV, embraced globally for its training chops, friendly-fly persona and quality construction.
Jon Hansen, Hansen Group's founder, Mike's father and sole U.S. importer of the FK line, recently introduced me to another beauty, the FK12 Comet, a super-sexy S-LSA aerobatic biplane that inveterate sky-scribe Bill Cox will report on soon.
Page 1 of 4