Tuesday, August 9, 2011
High-Wing Sleeper
Meet a top-quality, good-cruisin', fun-flyin' German composite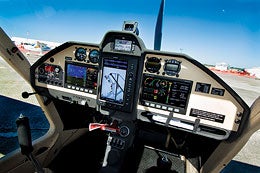 The modern glass cockpit features Dynon D100 and D120 EFIS displays, plus a Garmin 696 in the center.
Highlights, We Got Highlights
The ELA has mildly firm roll pressures but needs just a bit of rudder in turns. The airplane is refined from the FK9 MK IV to meet European EASA standards and serve its cruising mission: "We'll continue to market the MK IV as a trainer," says Mike Hansen, "but this airplane has more fuel, the bigger panel, a real baggage compartment with outside access door and smaller gadget bags next to the adjustable seats, so even though it doesn't fly a whole lot different than the MK IV, we're putting it out as a high-end cruiser."
Stick pressures are noticeably lighter and more responsive during slow flight. And deploying/retracting flaps has minimal effect on pitch. Nice.
The ELA is a friendly airplane. Hansen thinks it should appeal to "the would-be 172 pilot who doesn't want to worry about passing his medical, but still wants to carry decent payloads 300 miles or more and burn five gallons per hour at 105 knots. Some LSA are a bit slicker, but for people who like the Cessna look and might also want a docile, training-capable airplane that takes trips, too...we believe that's our market for this airplane."
Cockpit visibility is very good, especially for a high winger. My eye level (I'm 5'11") was a good six inches below the wing bottom. The overhead and rear windows make for a good 360-degree view.
The ELA's excellent nosewheel steering and big rubber-handled, center-console hand brake make for excellent ground handling, as good as any LSA I've been in. There are two throttles, one on the left of the panel and one in the center. That means left-hand power access for either pilot, or right hand for the left seater if preferred: a nice option.
There's good air flow through four sources: two side vents and two center eyeballs. And FK buyers can order the airplane in either tailwheel or tri-gear configuration at no extra charge.
The version I flew (Professional Model) had a top-notch glass deck with Dynon D100 and D120 EFIS displays and the Garmin 696 in a vertical installation. Aesthetically, it's a handsome and effective installation.
Wrapping up, the version I flew, which included a BRS parachute, the glass panel and other options, lists out at $132,000. Base price is considerably lower: The Executive Model lists at around $102,000 (€1 to $1.43 exchange rate). That's especially attractive for a composite airplane as nicely turned out as this one.
Page 3 of 4