Tuesday, May 4, 2010
Flight Design MC: Full Metal Concept
A born trainer, this spacious, docile workhorse flies like Wichita tin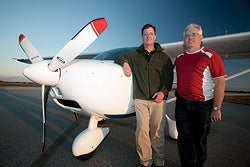 Tom Peghiny (left), Flight Design USA's president and founder, and John Gilmore, Flight Design's national sales manager, with the MC at U.S. Sport Aviation Expo.
"Yes, we wanted something a little more stable," he continues, "but it also had to be fun to fly. We didn't want a big 'truck.'"
The MC is Flight Design's first metal airplane. Although Betsch's headquarters are in Germany, the aircraft (to date, 1,500 worldwide) are built in the Ukraine, then assembled, fine-tuned, fitted with avionics and test-flown in Germany before delivery.
I wondered if building a metal airplane was a challenge for veteran composite makers.
"We brought all that composite technology to the Ukraine, where our aircraft are manufactured," explains Betsch. "We set up the factory and trained all the people. But when we decided to build the MC, it was, in fact, easier. The Ukraine is known as a metal-airplane region. So it wasn't a big deal for them."
Betsch describes hiring veteran metal monkey Dennis Franklin, a mainstay at Sebring's Lockwood Aviation and a wizard working with lightweight aluminum structures. Indeed, he ran his own thriving company, Maxair, and made Drifter ultralights for years.
"Dennis helped us set up tooling in the Ukraine and refine the construction process. Ukrainian builders were used to working with aluminum sheet thicknesses suitable for big Antonov military airplanes, not for lightweight microlight and LSA airframes.
"In the end, Dennis had many good ideas and helped us build an airplane that's light but strong."
There's plenty more to share about the MC, but I'm running short on space.
Let me finish with a few summary adjectives: roomy, well-appointed interior; easy to fly; docile; fun; solid workhorse; beautifully finished; affordable at $98,993 (analog panel, 80 hp 912UL) or $113,823 (Dynon EFIS, BRS parachute system).
Page 5 of 5