Tuesday, February 5, 2013
Leader Of The Pack
Fuel injection, constant refinements: why the CT line remains number one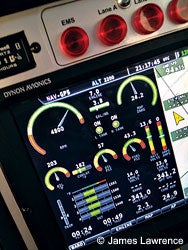 Flight Design's cockpit panel features two 10-inch Dynon SkyView EFIS displays and a Garmin 796 touch-screen GPS. The SkyView integrates with the Engine Management System to display systems data from Engine Control Unit computers.
Carter spends some time reveling in the technical aspects of the new engine and shows how well Flight Design has interfaced the mill with the two lovely 10-inch Dynon SkyView EFIS gracing our instrument panel. Several standard instrument packages are offered: all feature synthetic vision, XM weather and terrain information. A gorgeous Garmin 796 touch-screen GPS holds center court between the two SkyViews. Star Trek, here we come.
As the engine warms up, my host demonstrates how beautifully the SkyViews integrate the 912iS EMS (Engine Management System) readouts to provide more tech eye candy than you ever thought you'd need. The wonderful display and efficient organization of the SkyView, whether the seven- or 10-inch size, have become the EFIS standard for the industry: Scores of the 130 certificated S-LSA offer the SkyView. It's not the only quality EFIS out there, but Dynon's tireless devotion to refining—there's that word again—speak to its continued success.
Before we fly, some highlights of the new SkyView set up on the CTLSi:
•
Tons of screen readouts from the SV-EMS-221 module that supports the 912iS. The EMS talks with the Rotax's Engine Control Unit (ECU) computers, monitors aircraft systems such as autopilot and flap settings, and displays up to 16 different gauges, including tach, oil pressure and temp, fuel flow and pressure, cylinder head temperature (CHT), exhaust gas temperature (EGT), trim and flap positions.
•
The manual fuel selector and new electric trim switch both have display on the SkyView.
•
SkyView offers SV-ADSB and Whelen lights option for 2013.
•
Increased audio alarms on SkyView (the voice is pleasant, too).
•
Redundant ADAHRS system with battery backup. Mode S transponder with traffic information service (TIS) Traffic.
•
The touch-screen Garmin 796 GPS serves up XM Weather and music, temporary flight restrictions (TFR) and more, and integrates navigation seamlessly with the Dynon autopilot.
There's a lot more but, hey, we're still on the ground. Let's get airborne!
Silver Jubilee Edition
Flight Design is running a 25th Anniversary promotion on its 912iS-powered models. A limited series of 25 airplanes has special pricing, a unique equipment list and "personal touches." Each Jubilee model comes with a special inscription plate with signatures of the company's top managers and includes:

• Dual seven-inch or 10-inch Dynon SkyView avionics
• Dynon autopilot
• Mode S transponder and com radio
• Garmin 796/795 GPS
• Electric pitch trim
• Two Bose A20 ANR headsets
• Input for mobile phone and music
• Special two-tone leather interior, including leather instrument paneland carpeting
• 25th Anniversary commemorative exterior logo painted on aircraft (not a decal)
• 25th Anniversary leather flight briefcase
• Extended five-year (structural parts)and three-year (mechanical parts) warranty U.S. Sales head John Gilmore adds that the Jubilees are offered worldwide, so only a handful will be offered to U.S. buyers. Delivery starts in February and runs until June of 2013.
Page 2 of 5