Tuesday, March 11, 2014
The"i"s Have It
The CTLSi delivers performance with efficiency
Some pilots might question the need for a sophisticated glass panel in an LSA, a subject Peghiny had addressed on the ground. "Why would you have synthetic vision and an anti-collision system, and autopilot and weather, in an airplane that's only certified for VFR flight?" he had asked before answering himself. "If you truly want to use your airplane for vacation and enjoyment, you can imagine coming in late into a new airport in marginal VFR with some weather around, then all that capability becomes very, very important," he said. "Our customers believe that their safety is as important in a light-sport aircraft as it is in a certified production aircraft."
That brings up one of the next chapters in the evolving LSA story. Boucher is on the F37 ASTM International committee, which is considering regulations that would permit LSA to be used for IFR flight, if the aircraft is properly equipped and the pilot appropriately rated. "We're going to do it," he said confidently. (No regulations currently prohibit a properly equipped LSA operated by an appropriately rated pilot from flying IFR, but in practice, the FAA doesn't want LSA flying on IFR flight plans, those involved in rulemaking say.)
Touring aside, entry-level aircraft LSA are supposed to be docile and easy to fly. Indeed, CT series aircraft are used as trainers (a "Club" panel configuration is aimed at this market), so the maneuverability side of the performance envelope and stall characteristics are important considerations. Steep turns showed the CTLSi to be responsive and easily controllable. Keeping the nose on the horizon during 60-degree banked turns was unchallenging, requiring little adjustment of the electric trim. Power-off stalls at flap settings of zero, 15 and 30 degrees were equally unexciting. Any of the three flap settings can by used for landing. If the winds are blowing and more aileron authority and speed are needed, Boucher likes zero flaps, which produced a clean stall speed of about 52 mph IAS. With 15 degrees, the stall horn beep went to a solid bleat at about 42 mph, and with full flaps, the stall speed dropped to about 38 mph. In all three configurations, keeping the nose straight ahead with the rudders was also easy, the aircraft seeming to drift downward with a mild buffet rather than go into a series of oscillation stalls. The aircraft's safety is augmented by its strong carbon-fiber composite cockpit structure and the standard BRS parachute (found in all CT variants).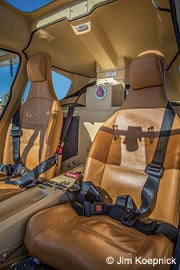 The cabin measures 49 inches with seats that are laterally adjustable to accommodate adults up to 6 feet 6 inches tall.
Base price of the generously equipped CTLSi is $152,500. Popular options include Dynon's SV-470 ADS-B, Whelan LED landing and position lights, lightweight lithium-ion battery, Bose headsets, and other goodies that can bring the price up to $165,000. While the CTLS is still in production, "nine out of 10" customers select the CTLSi and the greater fuel efficiency it offers, Peghiny said.
Flight Design also displayed at Expo a limited-edition Jubilee CTLSi, a "value package" offered last year to mark Flight Design's 25th anniversary. The Jubilee includes two-tone leather seats and leather-covered console, wood-handle control sticks, and signed airframe plate, along with many of the most popular options. All 25 positions quickly sold (15 allotted for U.S. customers), and the company is now offering an "Americas Edition," which also features a bundled basket of discounted upgrades for $167,000. A Garmin GTN 750-based panel is also an option for the CTLS and CTLSi.
The wind began to pick up as the sun rose higher, whipping up whitecaps on Lake Jackson that would ultimately suspend operations at the seaplane base for the day. Making an overhead entry for a right downwind at 1,000 feet at Sebring, we were crabbed 45 degrees to compensate for what the Dynon reported as a 40-knot wind from the north. With the wind decreasing as we descended, we were high turning final, providing an opportunity for the aircraft to demonstrate how well it handled a slip. Final is flown at about 70 mph, with 60 the target speed over the numbers. Not much of a flare preceded the solid plant of the mains on the runway, as if providing an exclamation point for the 10 years it took for LSA to reach this state of development, and leading one to wonder what the next decade will bring.
Page 3 of 3