Monday, September 8, 2008
Feel-Good Flyer
Ever met someone you instantly liked? The MD3 Rider is one friendly yet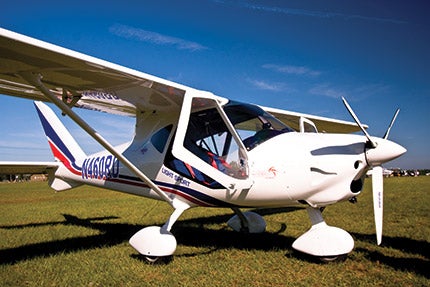 Someone recently told me that all LSA are "fun" and pretty much fly the same. That notion challenges my beliefs. Everything in life is subjective, even scientific observation. And if you're the least bit sensitive to your environment, you'll probably agree that any vehicle, just like any person you meet, has a distinct feel and personality. Call it the Mazda Miata vs. VW Beetle syndrome: Every ride has its own ineffable feel.
My bias was reinforced when I made my first flight in the MD3 Rider. I didn't know exactly why initially, but I immediately felt at home in the friendly little airplane. The Rider comes from European sport aircraft maker Flyitalia (www.flyitalia.it), based near Milan, Italy. Designed by celebrated Czech designer Jaroslav Dostàl, the S-LSA, which received ASTM approval in April, is conventionally built with an all-metal semi-monocoque airframe and aluminum skin. We'll get to the design and construction in due course.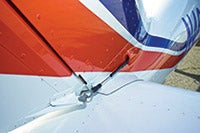 The Anatomy Of Feel
Each pilot's unique aviation background and experience dictates how an aircraft feels. I myself cut my teeth on sport aircraft back in the '70s with lightweight flivvers, ultralights, sailplanes and hang gliders, so I like comfortable, stable yet responsive aircraft with balanced controls and good power performance.
The MD3 Rider is imported by Space Coast Aviation Services (
www.scaviationservices.com
), an LSA start-up enterprise located at Space Coast Regional Airport in Titusville, Fla., just a stone-skipping throw west of NASA's Kennedy Space Center. Founding partners Ron Bearer Jr. and Brad Gutman hope to be major players in the U.S. LSA game, and they've made a good start with the Rider.
Later with all that: Let's go flyin'! With Brad Gutman in the right seat, we get clearance to runway 36, and the first thing I notice is how well the comfortable, semi-reclined seating fits my five-foot, 11-inch, 175-pound frame. The cushions are just right—neither soft nor stiff. Taxiing the Rider is easy thanks to the steerable nosewheel. Brakes are similar to those in many other LSA, actuated by an easily reached lever just aft of the throttle and choke quadrant. The disc braking is good without being touchy. "But it will lock up the wheels if you want it to," says Gutman.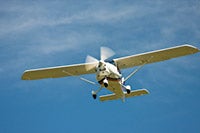 Powered by a 100 hp Rotax 912 ULS, the MD3 Rider is a responsive LSA that can climb at 1,200 fpm and cruise at 113 knots.
We do the run-up, then select 15 degrees of flaps for takeoff. The panel-mounted electric-flap lever setup is easy to reach and designed well. Flap settings 1, 2 and 3 are set by detent notches; corresponding values are 15, 30 or 38 degrees, respectively. In with the throttle on the 100 hp Rotax 912 ULS, and the Rider accelerates rather smartly off the runway at around 50 knots. Now I know why Gutman calls it a "little rocket ship."
Flaps up brings little noticeable change in pitch trim—very nice—and soon we're climbing to 2,500 feet with a handsome value of 1,200 fpm at 60 knots. And that's on a mid-80s, humid day in Florida with two pilots possessing a combined weight of more than 320 pounds—and full fuel! In fact, the lightweight, sturdy construction and empty weight of just under 655 pounds deliver a useful load of 612 pounds, 456 pounds with full fuel. To quote Darth Vader: "Impressive. Most impressive."
Page 1 of 3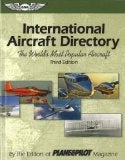 International Aircraft Directory

Plane & Pilot Magazine