Monday, September 8, 2008
Feel-Good Flyer
Ever met someone you instantly liked? The MD3 Rider is one friendly yet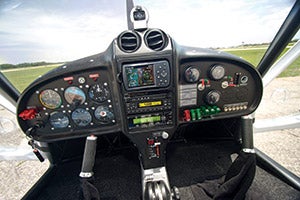 The fully equipped MD3 Rider features steam gauges and Garmin electronics. The electric-flap lever (below) is easily reached and user-friendly.
Balancing Act
Overall, everything about the Rider feels in balance. Pitch, yaw and roll forces seem equivalent and harmonious. The rudder helps coordinate things, but it isn't a major factor in comfy flying. Overall, the airplane reminds me of a light touring motorcycle: comfortable on the long haul, but responsive enough to handle the mountain twisties.
Fuel management is a breeze—turn on one wing tank, turn off the other with the rotating toggle levers on the panel in front of you. Cabin visibility is expansive thanks to the wrap-over-top windscreen and low side rails on each door, which give you a steep down viewing angle. There's also plenty of shoulder room, with 46 inches from door to door—no claustrophobia from this flivver.
Landings are also a snap. Gliding down on short final at 50 knots, my host has me feed in a little power to flatten the glide when my descent rate gets a bit high. Plop, on she settles without histrionics—in the low 30s! After some short-field takeoffs (hold with brakes, flaps at 15 degrees, full power, release—and off we fly in a very short distance), we land on grass. The Rider handles all challenges with equanimity.
Looking back, what I remember most is the ease and pleasure of flying the MD3 Rider. Can't wait to hop it again, and what higher praise can you give an airplane than that?
A Little Tech Music, Maestro
The Rider's construction features a fuselage cockpit cage of chrome-moly steel in a triangulated design for max crash protection. Tubes are laser cut and TIG welded into a framework made up of 150 triangles. The aluminum wing and fuselage skins are primary-glued and pop-riveted. The contoured carbon-composite engine cowl and rear canopy fairing lend a smooth, sleek aesthetic that's enhanced by rounded instead of squared-off fuselage sides—and designer Dostàl's trademark shark-fin tail.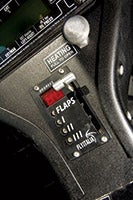 A 13-gallon fuel tank is built into each of the wings. The tricycle gear sports sturdy composite-construction main legs. Aircraft-grade AN hardware, not a standard on all LSA, is used throughout.
The MD3 Rider comes fully equipped with steam gauges and Garmin electronics (SL40 radio, GTX-327 digital transponder with Mode C and color 296 GPS, also intercom, electric flaps, wheel pants and other features) for $115,995.
Basic LSA VFR models without radios go for $93,995 for the 80 hp version, $99,995 for the 100 hp model. A BRS all-airplane parachute system and folding wings are offered as options.
SPECS:
Flyitalia MD3 Rider
Page 3 of 3