Wednesday, November 1, 2006
2007: The Year Of The VLJ
Will the world of VLJ diverge into two distinct markets?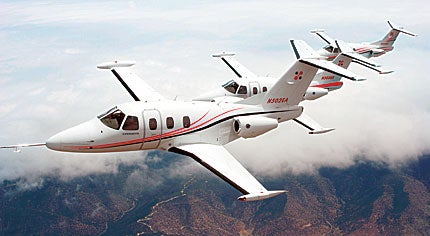 Recently, global superstore Wal-Mart announced that it would sell Eclipse 500s at select locations. Customers will make a deposit, get a demo ride, and if they like it, they'll ink the deal right at the airport. Wal-Mart will even paint its yellow happy face on the tail. Now there's a thought. All that will cost a mere $1.6 million or so.

This is only the latest indication that 2007, the year of the VLJ, is fast upon us. If starry-eyed industry soothsayers have it their way, we may soon get Chez Jet dealers on Rodeo Drive and a new ad slogan: "Let Hertz put you in the pilot's seat."

Okay, it won't be that big a craze. But the prospect of thousands of owner-flown and air taxi-operated VLJs providing sexy, convenient travel from about 5,000 short-runway airports is, for many small-business pilots and fleet owners alike, as irresistible as a sizzling lamb chop to a hungry wolf.


Vee Ell What?
A very light jet is generally considered a single-pilot, under-10,000-pound, four- to six-passenger airplane with a 41,000-foot ceiling that's capable of operating from 3,000-foot runways. Oh, and at a price that's at least a million less than the cheapest bizjet now flying.
Doomsayers see in the VLJ the echoes of previous gen-av boom prophecies that never materialized. Even FAA studies can't commit to a tighter range than 3,000 to 20,000 VLJs in flight by 2020.
It's the Wild West all over again, so pull up a hay bale and let's deal the cards. By the end of 2007, there may be a whole lotta shakin' out going on, pardner. Then again, VLJs really could be the big boost to general aviation we've been promised for decades.
The VLJ Cometh
Some key factors challenge the notion of small owner-flown jets. Principally, the high costs of acquisition, operation, maintenance and insurance, not to mention a robust upgrade in training and recurrency skills needed to fly safely. ("We overflew our destination 20 minutes ago? Really?")
The emergence of the VLJ takes a good whack at those challenges. So far, the Diamond D-Jet, targeted for a 2008 delivery, has the lowest price tag at around $1.38 million fully equipped. Most other models fall in the $1.5 to $3 million range. Current light bizjets are priced from $4 to $10 million and run $100,000 or more per year to operate, versus an anticipated $210 per hour or so (sans fuel costs) for the VLJ.
Page 1 of 6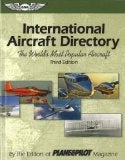 International Aircraft Directory

Plane & Pilot Magazine