Wednesday, November 1, 2006
2007: The Year Of The VLJ
Will the world of VLJ diverge into two distinct markets?

Recently, global superstore Wal-Mart announced that it would sell Eclipse 500s at select locations. Customers will make a deposit, get a demo ride, and if they like it, they'll ink the deal right at the airport. Wal-Mart will even paint its yellow happy face on the tail. Now there's a thought. All that will cost a mere $1.6 million or so.
" />
Very light jets are purposed with the intention of cutting costs across the board. They're lighter, have smaller, fuel-sipping engines, and perhaps the key feature: they don't need a flight crew. That's one of the big brass rings manufacturers are waving.
Three prime evolutionary developments account for much of the VLJ gold rush:
1.
advances in composite and traditional aircraft construction
2.
sophisticated avionics, a prime key to the "one pilot" concept
3.
the aggressively marketed Eclipse 500, which wraps those state-of-the-art evolutions into one economical, tasty package for a hungry market
Since Eclipse kicked off the boom, a flock of other VLJ designs has formed: the sexy twin-boomed A700 from Adam Aircraft; Diamond Aircraft's single-engine D-Jet; Epic Aircraft's EpicJet; Brazilian powerhouse Embraer's Phenom 100; Honda and its innovative HondaJet; ATG's Javelin, a two-seat look-alike of an F18 Hornet; and not to be outflanked, the Citation Mustang from industry backbone Cessna Aircraft.
Several more VLJs are in the pipeline, some flying, some still dots on a CAD/CAM screen. At Oshkosh 2006, "The Jet" was announced, in the words of Cirrus Design CEO Alan Klapmeier as "the lowest, slowest, shortest-range jet in the market."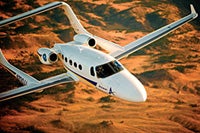 Adam Aircraft's Insurance Assurance Program is designed to ease a pilot's transition from a piston aircraft to the A700.
The Emperor's New Jet
Klapmeier's remarks were meant to be neither naive nor flippant. Cirrus isn't the only thriving company to take a hard look at the VLJ frenzy and see a little—maybe a lot of—transparency in the VLJ mystique. For small biz fleets and Bonanza-, TBM- and King Air-style pilots flying for business and pleasure, Cirrus and Diamond are staking out their own subcategory of personal jet. It may not reach for the stars, but it may be the next Bonanza…in jet clothing.
Photo Finish!
Having raced to the finish line, neck and neck with the Eclipse 500, Cessna's Mustang was granted full FAA type certification on September 8. Cessna, which has been developing its aircraft since 2002, used decades of successful experience in the bizjet market to cruise relatively unscathed through certification. Although Eclipse was the first out of the gate, the company incurred various setbacks along the way. Nonetheless, Eclipse boasts 2,500 orders—the lion's share of the market to date—and has a few completed airplanes ready to roll out to customers once the FAA hands over final certification.
Page 2 of 6