Friday, July 1, 2005
"301 Knots!"
Take the Beech Duke, add turbines, and you get that magical number
"Better still," says Conrad, "whatever service is required for the first five years other than normal, periodic maintenance is done by Pratt & Whitney as part of the warranty. That means most operators will be able to fly for at least five years before they'll even be susceptible to any significant engine maintenance."
Predictably, converting a piston airplane to turbine power wasn't exactly a slam dunk. In 2002, Conrad and Sadler launched into a development program to replace everything from the firewall forward on the prototype Duke. The P&W turbines were collectively about 550 pounds lighter than the Lycomings, but that didn't all translate to additional payload. The original Duke B60 carried 232 gallons of avgas, adequate for the Lycomings, but more than a little short-legged at the Royal Turbine's 75 gph fuel burn (at max cruise and 23,000 feet). As a result, Conrad increased fuel capacity to 267 gallons of heavier jet fuel, reducing the theoretical payload improvement to 153 pounds—still impressive.
The lost weight came out of a fairly forward CG position, and that shifted the balance point well aft. In order to rebalance the envelope, Conrad relocated both batteries to the nose, as far forward as possible. Also, mounting turbine engines repositioned the props three inches farther forward. Collectively, these changes offset the lighter engines and restored the balance.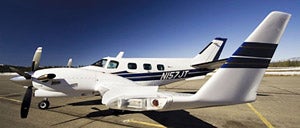 By replacing a standard Beech Duke's Lycoming engines with a pair of Pratt & Whitney PT6A turboprops, Rocket Engineering has created a much more powerful aircraft that boasts 550 shp of brute force on each side. Fuel capacity increased to 267 gallons—that's 35 gallons more than a stock Duke's—and Vmc was raised to 91 knots—10 knots more than the original.
The increase in power from 380 hp to 550 shp per side caused an increase in Vmc. Minimum single-engine control speed on the Royal Turbine has been set at 91 knots, compared to about 81 knots on the original Duke.
We launched for the flight levels out of Truckee-Tahoe Airport, in California, on one of those crystal-line, Chamber of Commerce days. "Launched" is the operative term in this case, as the Royal Turbine quickly wound the VSI around to 4,000 fpm at a climb speed of 120 knots. Keep in mind that was from Truckee's scenic strip just north of Lake Tahoe, 5,900 feet up in the pine country of the Sierra Nevada.
The airplane's cruise climb at 175 knots was even more interesting at 2,000 fpm. We were flying with three aboard plus half fuel, so the airplane wasn't nearly up to gross, but it wasn't exactly light, either. Conrad commented that he had seen nearly 4,500 fpm flying alone on flight tests with 100 gallons aboard.
At such spectacular climb rates, it doesn't take long to reach big altitudes, and we leveled seven minutes after takeoff at 23,000 feet, the airplane's optimum speed height. Flying in smooth air, I let the Royal Turbine run out to its maximum indicated airspeed. It took probably five minutes for IAS to peak, but the final number was 197 knots at 1 degree C. That works out to a true of 301 knots at 75 gph total burn.
Page 3 of 5